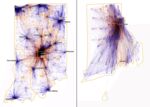 Keep up with the most pressing, interesting, and important city stories of the day. Sign up for the CityLab Daily newsletter here.
---
What We're Following
Draw the lines: When it comes to gerrymandering, it can be maddeningly difficult to measure if congressional districts respect "communities of interest," as many states require. But what if the answer lies in a simple, mappable thing most people do every day? On CityLab, geographer Garrett Dash Nelson makes the case that commuting patterns could hold the key to a better electoral map.
See for yourself: By Nelson's measurements, Indiana (left) scores highly, with many commutes beginning and ending in the same congressional district. But it's another story for Rhode Island (right), where "a huge fraction of commuters live and work across district lines."

---
More on CityLab
---
Map of the Day

Where we're going, we will need roads. Geographer Simon Kuestenmacher surfaced this map of the world as covered by Google Street View, via Reddit. You'll notice that entire countries are missing, including India, which denied permission to the mapping project back in 2016. CityLab refresh: What Google Street View can tell you about how your neighborhood votes.
---
What We're Reading
Hundreds of NYPD officers committed serious offenses and kept their jobs (BuzzFeed)
Can manufactured housing help ease America's affordable housing crisis? (Curbed)
Is Elon Musk tunneling into the past, not the future? (Fast Company)
This data shows that school segregation is getting worse (Vox)
Add to bucket list: "Last chance" travel for disappearing marvels (New York Times)
---
Tell your friends about the CityLab Daily! Forward this newsletter to someone who loves cities and encourage them to subscribe. Send your own comments, feedback, and tips to hello@citylab.com.