China Executive Blasts Trump's Latest Tariff Threat: NPC Update
By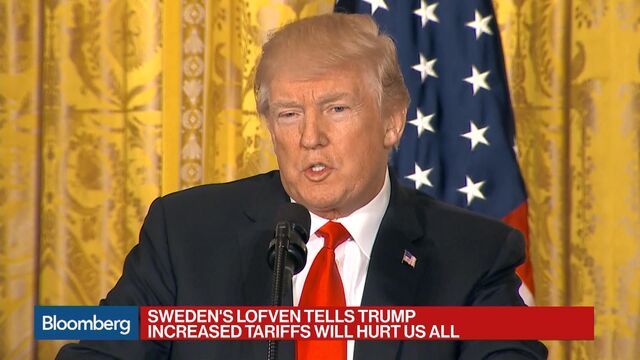 The National People's Congress, China's rubber-stamp parliament, kicked off Day 3 on Wednesday in a session that runs until March 20. Topping the agenda are briefings from Finance Minister Xiao Jie and Agriculture Minister Han Changfu. On the sidelines, the big topic is Trump's latest threat to impose tariffs.

We follow developments here. Time stamps are Beijing:
Tax Cuts Coming for Small Business (10:02 a.m.)
Xiao, the finance minister, said China will keep cutting taxes, including increasing breaks for small- and medium-sized businesses.
Proactive Fiscal Policy to Continue (10:02 a.m.)
China's proactive fiscal policy remains unchanged despite lower fiscal deficit ratio, Xiao told a briefing during the annual session of the National People's Congress.
Property Tax Bill Being Drafted (9:53 a.m.)
The NPC, Ministry of Finance and other relevant departments are drafting a property tax bill, Vice Finance Minister Shi Yaobin told reporters, without specifying a timeline.
Cosco Chairman Blasts Protectionism (9:47 a.m.)
China Cosco Shipping Corp. was paying close attention to trade curbs and friction, and was prepared to deal with them, Chairman Xu Lirong said in an interview in Beijing when asked about escalating trade tensions between China and the U.S. "The world will not support trade protectionism," Xu said, noting the impact has been limited so far. "We need to practice free trade to benefit each other."
Sweeping Government Overhaul Empowers Party (8:53 a.m.)
President Xi Jinping is preparing to extend a sweeping government overhaul that would give the Communist Party greater control over everything from financial services to manufacturing to entertainment, two people familiar with the matter told Bloomberg News. The proposed "CPC leadership system" -- approved by the party on Feb. 28 -- calls for merging more than a dozen state agencies, are due to be revealed by March 17.
China to Promote Blockchain Innovations (8:00 a.m.)
China will promote innovations, R&D for wearable devices, virtual reality and ultra-high definition video industry as part of supporting measures to be announced this year, the Economic Information Daily reported, citing Ministry of Industry and Information Technology.
— With assistance by Yinan Zhao, Dong Lyu, and Jessica Sui
Before it's here, it's on the Bloomberg Terminal.
LEARN MORE