markets
Cenovus CEO Optimistic Rail Will Help Clear Canadian Crude Glut
By and
Oil-sands producer is in discussions with rail companies

Pourbaix sees more crude moving by rail starting mid-year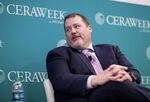 Rail companies will start shipping more western Canadian crude by mid-year, helping clear a glut that's devastated prices, Cenovus Energy Inc. CEO Alex Pourbaix said in an interview.
Oil sands production has increased in recent years while new pipelines have been canceled or delayed. When TransCanada Corp.'s Keystone system suffered an outage last year, the lack of shipping options caused Canadian crude to back up in storage, pushing its discount to American oil to the widest in four years.
While railroads previously helped producers ship when output rose or in the case of a pipeline failure, they've been slower to do so this time around. Calgary-based Cenovus, which generates mostly from the oil sands, is talking with Canadian rail companies about moving more product, Pourbaix said. Increased volume could start moving by rail at mid-year, he said.
It's not that rail companies "don't want to move the product," Pourbaix said in an interview at the CERAWeek by IHS Markit oil-industry conference in Houston. "I's really been a function for them of capacity, and having the power and the locomotives to do it."
The rail companies could offer a rail solution "in fairly short order," he said.
Before it's here, it's on the Bloomberg Terminal.
LEARN MORE