business
Australia Holds Key Rate as Divergence Weighs on Currency
By
Tuesday's decision was predicted by all economists surveyed

Aussie bonds are now yielding less than U.S. Treasuries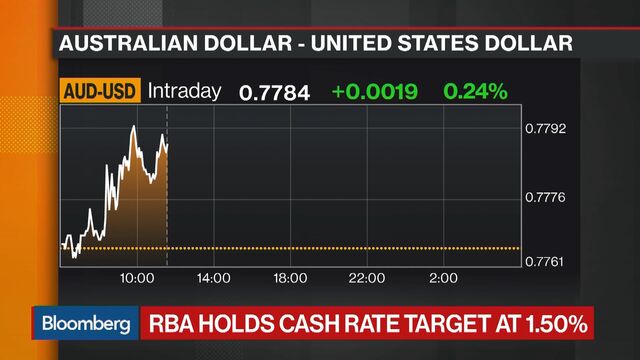 Australia's central bank left interest rates unchanged as its increasing policy divergence from global peers weighs on the currency, potentially aiding economic growth and inflation.
Reserve Bank of Australia Governor Philip Lowe and his board kept the cash rate at a record-low 1.5 percent Tuesday, in line with market and economists' expectations. They're trying to prolong a hiring boom and soak up spare capacity in the labor market in order to generate faster wages growth. The RBA chief signaled he's seeing some progress.
"The rate of wage growth appears to have troughed," Lowe said in a statement announcing the decision. "Inflation is likely to remain low for some time, reflecting low growth in labor costs and strong competition in retailing. A gradual pick-up in inflation is, however, expected as the economy strengthens."
The local dollar was little changed after the statement's release, buying 77.82 U.S. cents at 3:05 p.m. in Sydney.
The RBA is standing pat as developed world peers move to normalize policy or raise interest rates in response to tighter job markets and accelerating growth, as they overcome fallout from the 2008 global recession. While Australia dodged the slump due to massive resource demand from an industrializing China, its economy is sluggish now due to record-high household debt and weak wage growth that's slowed consumption and inflation.
"Wage growth remains key, as this will ultimately drive inflation, and it remains anemic; real wages have stagnated over the last year," said Sarah Hunter, head of macroeconomics for Australia at BIS Oxford Economics. "We don't see the cash rate rising until 2019, likely the second half of the year."

Australian bonds are now yielding less than their U.S. counterparts for the first time since around the turn of the century, which is starting to weigh on the currency. The Aussie has fallen about 1.6 percent in the past month, though continued support from stronger commodity prices is likely to prevent a sharp drop. In February 2001, it traded below 48 U.S. cents, but that reflected weak terms of trade as well as rate differentials.
Bill Evans, chief economist at Westpac Banking Corp., predicts the U.S. federal funds rate will climb to 112 basis points above the RBA's cash rate in 2019. He sees the Federal Reserve raising to 2.625 percent next year and Lowe and his board remaining on hold until 2020.
"Market volatility has increased from the very low levels of last year," Lowe said. "As conditions have improved in the global economy, a number of central banks have withdrawn some monetary stimulus." He noted the Australian dollar "remains within the range that it has been in over the past two years."
GDP Growth
The RBA altered its language around gross domestic product in the statement, removing its more precise forecast of growth "a bit above 3 percent over the next couple of years" in favor of: "the bank's central forecast is for the Australian economy to grow faster in 2018 than it did in 2017."
Australia's GDP for the final quarter of last year is due for release tomorrow. It probably slowed after a slump in exports over the period, with coal shipments hampered by poor weather and related issues. At the same time, the RBA's easy policy has encouraged business investment and spurred a hiring bonanza as 400,000 new jobs were added in 2017, a record three-quarters of which were full-time.
Still, the jobless rate at 5.5 percent is about half a percentage point off what the central bank estimates is full employment, while inflation is still hovering just below the bottom of its 2 percent to 3 percent target. The RBA wants to be nearer those goals before it's ready to begin tightening, Lowe has indicated.
The central bank also noted Tuesday that house-price growth in Sydney and Melbourne has slowed. It said regulatory measures have helped contain "the build-up of risk in household balance sheets, although the level of household debt remains high."
(
Updates with comments from economists, Lowe from sixth paragraph.
)
Before it's here, it's on the Bloomberg Terminal.
LEARN MORE