politics
Ugandan President Fires Top Security Officials After Crime Wave
By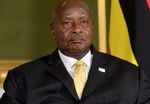 Ugandan President Yoweri Museveni fired the country's security minister and police chief after a series of murders and kidnappings drew criticism of the authorities' failure to solve the crimes.
Uganda had a spate of unsolved murders of young women near the capital, Kampala, last year. Opposition parties including the Forum for Democratic Change accused the police of failing to maintain law and order. At the same time, advocacy groups including Human Rights Watch have faulted Uganda's security services for using disproportionate force to curb freedom of expression and the media and suppressing political opposition.
Museveni appointed Elly Tumwine as security minister, replacing Henry Tumukunde, and named Okoth Ochola as police inspector-general, after removing Kale Kayihura from the post, according to a statement on the president's Twitter account. The dismissals came in the wake of arrests by the military of a number of police officers and gang leaders for crimes including kidnaps and murders.
"It is true there is quite a bit of laxity and there could even be infiltration by criminals," Museveni said. "That is why a number of police staff were arrested. They are now in courts."
Museveni, 73, is one of Africa's longest-serving rulers, having been at the helm of Africa's biggest coffee exporter since 1986. In December, he signed a controversial law abolishing age limits for candidates seeking to lead the East African nation, positioning him to potentially extend his rule when elections are next held in 2021.
Ochola is the first career policeman to head the force since 2001.
Before it's here, it's on the Bloomberg Terminal.
LEARN MORE