Economics
Trump's Tariff Is Forcing Homebuilders to Cut Costs
Penalties on imports of Canadian softwood lumber are changing the economics of construction for builders—and buyers.
By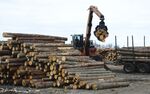 For the past 18 months, Eddie Martin has been trying to find ways to keep the affordable homes he builds, well, affordable.
About 40 percent of the Texas homebuilder's framing lumber comes from Canada. The Trump administration slapped punitive tariffs on Canadian softwood timber last year, claiming the industry is unfairly subsidized. The move has driven lumber prices to near record highs. Tilson Home Corp., where Martin is president, has so far refrained from passing on the added costs to homebuyers. To do that, it's cut back the number of home plans it offers and is considering swapping pricier fir for cheaper Southern yellow pine, even though its tendency to bow in the Texas humidity makes it more difficult for construction crews to work with.
"If it stays up and we feel like we need to try and raise the price to try and recoup some of that, it's very difficult for us as a company," says Martin, whose business builds about 400 homes a year across the state. "It's imperative we keep our prices in the range where we can sell the house."

Framing lumber, including installation costs, accounts for about 18 percent of the average home's selling price, according to the National Association of Home Builders. The rising price of timber comes at a bad time for U.S. builders, which are already contending with labor shortages and scarce supplies because of summer wildfires that wiped out some timberland in British Columbia. "You've got the kind of perfect storm brewing for the homebuilder," says Jim Barbes, vice president of national sales at 84 Lumber Co., one of the nation's largest building-supply chains.
On Nov. 2 the U.S. Department of Commerce announced average import duties of 21 percent on shipments of timber from Canada, which supplies more than a quarter of what American builders use each year. The price of one type of lumber futures contract that's a widely watched industry metric has surged 31 percent in the past 12 months, and it's trading at the highest level in at least 32 years. "So we're talking about the potential not just for a record-setting year, but one that is unprecedented," says David Logan, director of tax and trade policy analysts at the National Association of Home Builders.

The import duties leave companies paying $1,360 more to build a single-family home. Many builders have started to raise their prices to keep profit margins stable, says Bloomberg Intelligence analyst Drew Reading, but their ability to pass on the added costs will be tested as mortgage rates start to rise.

Builders are trying to find as many efficiencies as they can to reduce costs, including changing the design of roof systems, wall panels, and floors to use the least amount of material possible while still meeting building codes, says Barbes of 84 Lumber. They're also shifting to smaller starter homes with simpler floor plans and multifamily dwellings to save money, he said. The Pennsylvania-based company uses designers who, with the help of software, can calculate the loads to optimize the wood or wood framing while ensuring the quality of the home isn't compromised, he says.
Taylor Morrison, a Scottsdale, Ariz.-based company that expects to build 8,000 to 8,500 homes a year, is constructing wall panels in factories before they're shipped to the job site to reduce lumber waste, says Alan Laing, executive vice president of homebuilding operations. Companies such as his will probably start to look to alternative materials like steel and concrete if lumber prices continue on an upward trajectory. "If this is a record year," he says, "it'll spawn innovation like anything does when something becomes unaffordable."
Before it's here, it's on the Bloomberg Terminal.
LEARN MORE