markets
Oil Boom-Bust Cycles Shrinking, Conoco CEO Says: CERAWeek Update
By and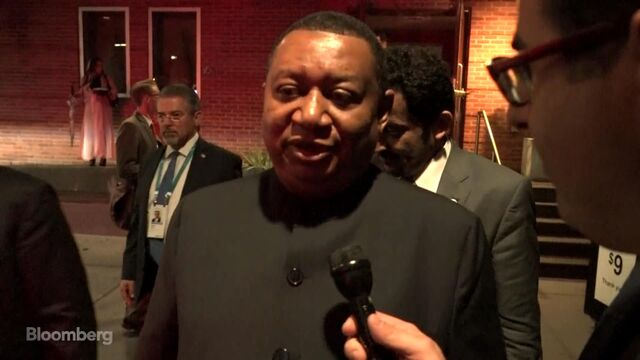 It's Day 2 at CERAWeek by IHS Markit, the five-day gathering in Houston of some of the energy industry's biggest names. Tuesday's highlights include appearances by the CEOs of Saudi Aramco, BP Plc and ConocoPhillips. Shale, the future of petroleum demand, and low-carbon technologies are among the recurring themes for industry executives and government ministers alike.
We will be following developments here in real time. Time stamps are Houston.
Boom-Bust Cycles in Oil Tightening: Conoco CEO (10:47am)
The ups and downs in crude markets are getting steeper and faster, increasing the challenges explorers face in managing risk and making drilling decisions, ConocoPhillips CEO Ryan Lance says.
"Peak to peak and trough to trough, they're getting closer together," Lance says during a one-on-one Q&A with oil historian Daniel Yergin.
After Yergin notes that CERAWeek is enjoying record attendance this year -- some 4,300 are in attendance, up from 3,800 a year ago -- Lance quips that it helps when there's "a 6 in front of the oil price instead of a 4."
Earlier in his remarks, Lance uttered what may have been the most fascinating frack-tech phrase of the conference so far: "total stimulated rock volume."
Aramco CEO Not Losing Sleep Over Electric Vehicles (9:13am)

Saudi Arabia's oil company isn't afraid of electric vehicles.
As it prepares to sell a stake in the company to investors, Saudi Aramco CEO Amin Nasser says petroleum demand isn't going away any time soon.
"I am not losing any sleep over 'peak oil demand' or 'stranded resources,"' Nasser says as he shares a stage with Yergin. "We must push back on the idea that the world can do without proven and reliable sources" of energy. "Oil and gas will continue to play a major role in a world where all energy sources will be required for the foreseeable future."
U.S. Gasoline Use to Peak in 'Short Order': PBF CEO (7:44am)
Gasoline demand is set to peak in the U.S., but global diesel consumption growth is just getting started as new international rules requiring lower-sulfur marine fuel come into play, says PBF Energy Co. CEO Thomas Nimbley.
Day 1's highlights:
OPEC-Shale Dinner to Yield 'Platitudes,' Mark Papa Says (6:20pm)

Mark Papa, an architect of the U.S. shale revolution as former CEO of EOG Resources Inc., dismisses the potential for concrete results from a gathering Monday night between OPEC representatives and their competitors in the shale industry.
"I don't think this will result in anything by platitudes," Papa says on his way into the Houston restaurant hosting the gathering. The dinner will feature "generalizations" and discussions that go nowhere, he says
Total's Pouyanne Says Lack of Shale Assets No Drag (5:03pm)


Total SA's chief executive officer may be one of the few major oil heads who isn't salivating over the booming Permian Basin shale oil field.
"Total today is the most profitable major company without any shale," Patrick Pouyanne said in an interview Monday on Bloomberg Television. Instead, Pouyanne said his company is focused on five core areas -- Africa, the Middle East, the North Sea, deepwater development and liquefied natural gas. "I prefer to play into my strengths," he said.
Instead of competing for drilling rights in hot markets like the Permian Basin, Pouyanne has been prowling elsewhere. Last week, the French oil giant agreed to buy out Marathon Oil Corp.'s Libyan assets. In Monday's interview, Pouyanne called the $450 million deal "one of the best I've ever done."
OPEC Interested in Talking to Shale Producers (4:20pm)

OPEC Secretary-General Mohammad Barkindo says the group is interested in a dialogue with shale producers, they just won't talk about production cuts or oil prices.
Then what will they talk about? We could find out more this evening.

Barkindo plans to meet with physical crude traders and oil hedge funds while he's in Houston, noting that both groups have a big impact on prices. Every producer will be needed to meet future oil demand.
Nigeria Sees No Hope of Recapturing Lost U.S. Sales (2 p.m.)
Once a major supplier of crude to U.S. refiners, Nigeria probably will never recapture that lost market share thanks to the flood of output from North American shale fields, Minister of State for Petroleum Resources Emmanuel Kachikwu says during a meeting with reporters.
"I think that is gone," Kachikwu says. "It's very unlikely that market" will redevelop for Nigeria.
Kachikwu also says it's "time to reach out" to American shale drillers about pitching in to help "stabilize" the oil market. OPEC representatives are scheduled to break bread tonight in Houston with a group of U.S. shale explorers.
"We're obviously going to be reaching out across the divide to look at shale producers and their individual rights to say what can we do collectively to stabilize the market," the minister says during a Bloomberg Television interview on the sidelines of the conference.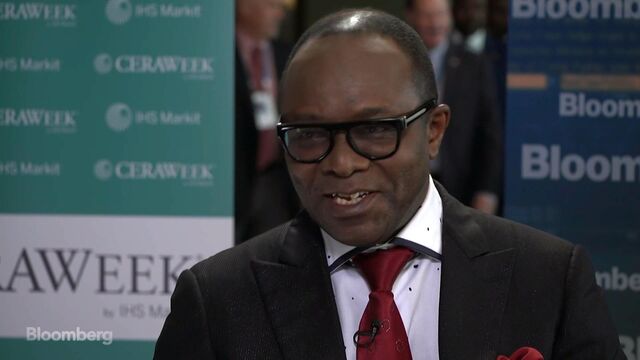 Steel Tariffs Should Focus on the 'Real Problem' (12:27 p.m.)
The first panel is all about energy infrastructure. Senator Dan Sullivan, an Alaska Republican, opens the conference with an awkward joke about visiting one of the "small, lower-48" states. He then promises to "preach the gospel of optimism," saying there's never been a better time for American energy production. He expects the first lease sale in Alaska's Arctic National Wildlife Refuge in 2019 and says bringing more certainty to the permitting process is a key part of legislation he's introduced. "It shouldn't take eight years to build a pipeline."

He is followed on stage by Plains All American Pipeline LP CEO Greg Armstrong, who says political uncertainties surrounding projects add costs and delay. The White House infrastructure proposal to streamline permits gets an "amen" from him, and he says the difference in attitude from the new administration is refreshing.
On tariffs, Armstrong says he spent the weekend trying to figure out how U.S. steel tariffs would impact his business. If there are going to be exclusions, he suggests having them for things that aren't built domestically -- pointing to a 26-inch pipeline that is only built in three places, none of them in the U.S. "If you can, buy American. If you can't get what you need, you have to go somewhere else."
Sullivan said he spent the weekend on the phone with members of the Senate and the administration to talk tariffs. The senator said he supports going after Chinese oversupply (and re-shipment), joining with our allies to "focus on the real problem. The real problem in this sector is China."
— With assistance by Joe Carroll, and Tina Davis
Before it's here, it's on the Bloomberg Terminal.
LEARN MORE