markets
Saudi Suspends Longer-Term Repo Pacts as Cash Crunch Ends
By
Central bank stops 7-day, 28-day, 90-day repurchase agreements

Decision likely made to try to limit excess liquidity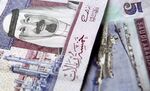 Saudi Arabia has suspended the use of 7-day, 28-day and 90-day repurchase agreements that were rolled out two years ago when the kingdom faced a liquidity crunch, the central bank said.
The decision was made "due to a lack of need for them in light of current developments," and to "strengthen monetary stability," the Saudi Arabian Monetary Authority said in a statement on its website Monday. That leaves only the one-day repurchase agreement.
The world's largest oil exporter introduced 7-day and 28-day repurchase agreements in September 2016 as tight liquidity in the banking system threatened to add to the economic strain of lower crude prices. The 90-day pacts were introduced a month later. Since then, liquidity has increased significantly. For the first time since the global financial crisis in 2009, Saudi interbank offered rates are below their U.S. dollar equivalent in London. On Monday, the gap was about 10 basis points.
The central bank "is likely looking to limit the discount" between the rates, "which would result in eventually capital outflows or a shift in deposits" from Saudi riyals to U.S. dollars, said Monica Malik, chief economist at Abu Dhabi Commercial Bank.
Oil Rout
Historically, borrowing rates in Saudi Arabia have been higher than those in the U.S., by more than 150 basis points as recently as 2016, when the oil price rout was pushing Saudi officials to draw down government deposits to plug a ballooning budget deficit.
Over the past two years, the government has turned to international and domestic bond sales, while Brent crude prices have risen from about $49 a barrel in September 2016 to more than $65 a barrel last month, easing the pressure on state finances.
Stopping the longer-term repurchase agreements "is not expected to withdraw liquidity," Malik said, but it "will help limit a further increase."
"For liquidity management and monetary management, this is a key move," she said. "But what we really need to see for liquidity to tighten is greater borrowing in the economy, whether it's government or private sector."
(
Updates with rates spread, economist comments from third paragraph.
)
Before it's here, it's on the Bloomberg Terminal.
LEARN MORE