politics
Moon Envoys Head to North Korea to Push for Talks With U.S.
By
Security aide, spy-agency chief to lead delegation Monday

Moon seeks dialogue to end North Korea's nuclear program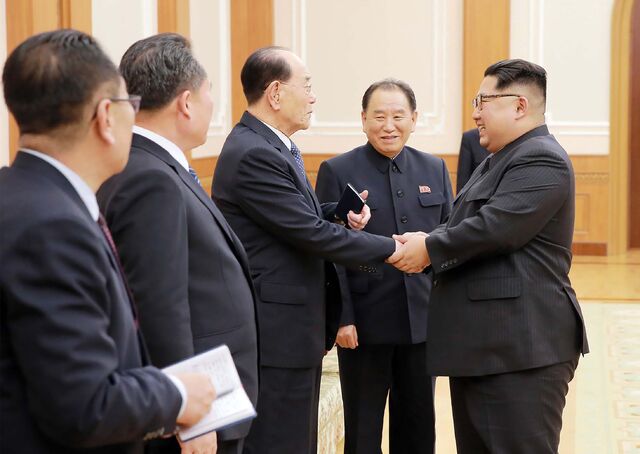 A high-level South Korean delegation flew to North Korea on Monday afternoon in a bid to persuade Kim Jong Un to start talks with the U.S. and stave off a potential conflict over his nuclear program.

South Korean President Moon Jae-in sent national-security adviser and top spy on the two-day mission to Pyongyang, presidential spokesman Yoon Young-chan told a news briefing Sunday. The team -- led by National Security Office head Chung Eui-yong and National Intelligence Service chief Suh Hoon -- planned to discuss U.S.-North Korean talks "aimed at denuclearization" and inter-Korean relations, Yoon said.
The envoys will discuss with North Korean counterparts the release of three Korean-Americans detained in the isolated nation, the Chosun Ilbo newspaper reported Monday.
They will then travel to Washington to discuss the results, Yoon said, adding that South Korea would also closely coordinate with neighboring China and Japan. Moon wants Kim to first freeze the weapons program to lay the ground for disarmament talks.

The Winter Olympics -- including the Paralympics that run from March 9 to March 18 -- have provided a window to rebuild diplomatic ties after an escalating series of North Korean weapons tests last year prompted United Nations sanctions and threats of military action by U.S. President Donald Trump. While both the U.S. and North Korea say they're open to talks, how much either side is willing to concede is unclear.
Trump and Moon, who's weighing his own invitation to Pyongyang, spoke about the situation in a 30-minute phone call Thursday. The White House said the leaders "noted their firm position that any dialogue with North Korea must be conducted with the explicit and unwavering goal of complete, verifiable and irreversible denuclearization."
The two sides have been at loggerheads since the Korean War ended without a peace treaty almost 65 years ago, and Kim's government says nuclear weapons are necessary to deter any U.S.-led military action. A North Korean Ministry of Foreign Affairs spokesperson told the official Korean Central News Agency on Saturday that the country wouldn't accept U.S. preconditions.
"We have intention to resolve issues in a diplomatic and peaceful way through dialogue and negotiation, but we will neither beg for dialogue nor evade the military option claimed by the U.S.," the spokesperson said.

Military Drills
Moon is seeking a way to carry out U.S.-South Korea military drills expected to start shortly after the Paralympics without provoking a response from Kim. North Korea has denounced annual exercises as a rehearsal for war and accused the U.S. of trying to scuttle the peace.
The make-up of Moon's 10-member delegation shows his efforts to bridge the divide. Suh helped coordinate two previous inter-Korean summits during his 30-year career with the intelligence agency, while Chung manages South Korea's relations with the Trump administration.
Moon's 10-member group was also expected to include Vice Unification Minister Chun Hae-sung, who has been involved with inter-Korean talks since January.
China, which is eager to avoid any conflict on its border that could escalate into a confrontation with the U.S., has advocated a similar "suspension-for-suspension" framework to get both sides back to the negotiating table.
"We are happy to see this positive change and hope that all parties will seize favorable opportunities and continue easing the situation," Zhang Yesui, a vice Chinese foreign minister, told a briefing Sunday in Beijing. "We hope to see that North Korea and the United States can start a dialogue as soon as possible."
— With assistance by Li Liu
(
Updates with departure for Pyongyang. A previous version was corrected to reflect the right dates for the Paralympics.
)
Before it's here, it's on the Bloomberg Terminal.
LEARN MORE