technology
Lender Kabbage Will Stop Loans to Assault-Style Weapons Makers
By
CEO urges others to take action after Parkland shooting

Major retailers have separated from gun lobbyists, businesses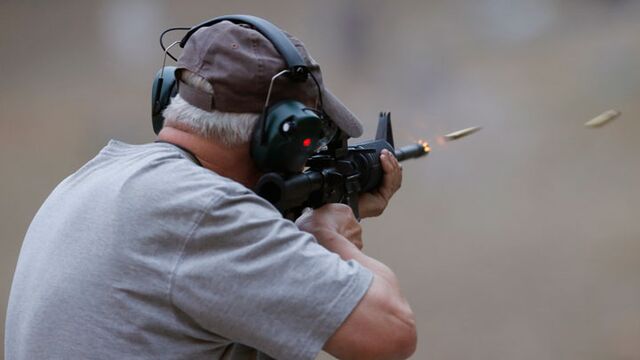 Small business lender Kabbage Inc., following companies that have divorced their businesses from gun lobbyists and assault-style weapons in the aftermath of the Parkland, Florida, school shooting, said it will not fund any company it classifies as selling firearms or ammunition to those under 21 or that sell or manufacture assault-style weapons.
"It's important for us to have perspective on these issues," co-founder and Chief Executive Officer Rob Frohwein said in an interview. "My brother-in-law, one of his best friends had a daughter at Sandy Hook who died in that tragedy, and that has always stuck with me."
Retail giants such as Dick's Sporting Goods Inc. and Walmart Inc. said last week they would no longer sell assault-style rifles such as the one used last month in the Florida shooting and would ban the sale of guns to those younger than 21. In the world of finance, investment giant BlackRock Inc. took steps to identify ways to remove gun companies from the portfolios. Teachers in Florida were upset when they found out their retirement funds own gun stocks, following revelations that holdings included the maker of the assault rifle used to kill 17 students and educators at Marjory Stoneman Douglas High School in Parkland.
Founded in 2009, Atlanta-based Kabbage helps small businesses get online loans quickly and licenses its technology to banks so they can do the same. It has raised more than $1.6 billion in funding, according to data from Crunchbase, and is similar to financial technology startups like On Deck Capital Inc., Social Finance Inc. and LendingClub Corp.
The lender said less than 1 percent of its customers fall into the category of weapons makers or sellers that would be banned under the new policy. It will work with those customers to make an orderly transition.
While Kabbage is one of the first to publicly take this kind of a stance since the Florida shooting, Frohwein hopes other financial-technology companies follow suit.
"The last thing we want is another tragedy to happen and us to have financed the gun that caused it," he said.
Before it's here, it's on the Bloomberg Terminal.
LEARN MORE