markets
Italian Markets Feel the Heat as Anti-Establishment Parties Surge
By
Drop in Italian assets contained as final results awaited

Yield spread to German bonds can widen to 150 bps: ING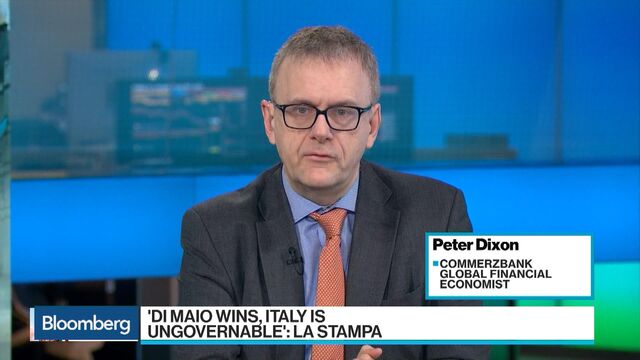 Political risk is back again in Italy.
The nation's government bonds and stocks fell after elections signaled a hung Parliament and a surge of support for anti-establishment parties, though declines were limited as markets awaited the final results. Earlier on Monday the euro weakened, but the currency was cushioned by news that Germany's Social Democratic Party voted to join Angela Merkel's next government.

Italy's benchmark 10-year bonds fell for a second day as projections based on ballot-counting on Monday morning suggested the euroskeptic Five Star Movement and the anti-migrant League could reach a majority in at least one of the houses of parliament should they join forces. That was seen as the least-likely scenario and the market's worst case in a Bloomberg survey of strategists before the election.
"The underperformance in Italian bonds is fairly contained for now," said Martin van Vliet, a senior interest-rate strategist at ING Groep NV. "The market is not really panicking as many believe a coalition between the Five Star Movement and League is a small tail risk. But I just struggle to see how this election outcome can be positive for Italian bonds. There is a real risk of new elections six months down the line."
The yield on 10-year notes climbed as high as seven basis points, before paring that increase to three basis points at 2.00 percent as of 11:30 a.m. in Rome. The spread versus similar-maturity German bunds widened four basis points to 136 basis points. ING's van Vliet said it was possible for the 10-year yield gap to widen toward 150 basis points in coming days.
Italian Banking
The euro was little changed at $1.2321. Italy's benchmark FTSE MIB stock index was down 1.1 percent, trimming losses after falling as much as 2.1 percent, while other European equities inched higher.
Italian banking stocks were among the most hit, with Banco BPM SpA down 6.2 percent and UniCredit SpA down 2.6 percent. Mediaset SpA also featured among the biggest losers, falling 4.6 percent. The day's losses, however, have not wiped out the index's outperformance in 2018, with the FTSE MIB down 0.7% year-to-date, while the Stoxx 600 is down 5.1 percent since the start of the year.
"Banks are the ones suffering the most due to the domestic exposure and the growing uncertainty related to the lack of visibility on the future government," said Luca Rubini, a managing director at Fidentiis Equities in Milan. "Uncertainty means lower growth so Popolari banks in particular, but also Intesa and UniCredit, which are exposed to the economic cycle, may suffer due to instability."
In secondary markets for high-yield debt, the three worst-performing credits in early trading were bonds sold by Italy-based companies Telecom Italia SpA, Astaldi SpA and CMF SpA -- the latter's senior secured bonds due 2022 fell more than 2 points to their lowest price since they were issued in July 2017, Bloomberg data show. Credit default swaps protecting holders of Telecom Italia debt rose 2.34 basis points to 130.95, the biggest gain in a fortnight.
"The Italian election showed that political risk in Europe might not have been top of the agenda for the last year but never went away completely," said John Taylor, a fixed-income money manager at AllianceBernstein. "Overall investors still believe that politics appear less likely to upset the apple cart than only a year ago," he said, adding the real investment opportunities will require some digging.
— With assistance by Sonia Sirletti, Hannah Benjamin, Blaise Robinson, and Kaye Wiggins
Before it's here, it's on the Bloomberg Terminal.
LEARN MORE