Corey Lewandowski Returning to House Intelligence Panel
By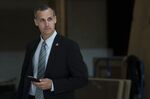 Corey Lewandowski, who was President Donald Trump's first campaign manager, is set to be interviewed for the second time Thursday by the House Intelligence Committee, according to a House official familiar with the panel's schedule.
Lewandowski's return for more closed-door questioning by the committee, which is investigating Russian meddling in the 2016 election and any collusion by those around Trump, is expected to show up even though he hasn't been subpoenaed, said the official, who asked not to be identified discussing the committee's planning. 
In his initial interview on Jan. 17, Lewandowski refused to talk about his activities and communications with Trump after departing from his campaign in June 2016. The official said it's not clear whether Lewandowski will answer those questions this time.
Two other high-profile witnesses close to Trump, former White House chief strategist Steve Bannon, and Hope Hicks, who has announced her resignation as White House communications director, also refused to provide some answers to the committee, saying they were doing so under instructions from the White House.
When Hicks appeared on Jan. 17, she wouldn't respond to questions about events that took place after Trump's inauguration.
"We got Bannoned!" said panel Democrat Denny Heck of Washington, in a reference to Bannon's similar approach.
Lewandowski hasn't claimed that the White House asked him not to address certain topics, saying during the initial interview simply that he was unprepared to answer such questions. Until now, he has refused to reappear before the committee.
"I know I didn't coordinate or cooperate" with Russia, Lewandowski said Monday on CNN, saying anyone who did should spend the rest of the lives in jail. "Our democracy is too sacred."
— With assistance by Terrence Dopp
Before it's here, it's on the Bloomberg Terminal.
LEARN MORE