Carlyle Co-Founder Says Guns Are Off-Limits for His $195 Billion Fund
David Rubenstein avoids investments "antithetical" to his beliefs.
By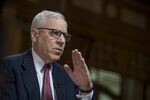 As some of Wall Street's largest investors reconsider their relationships to the firearms industry, one titan says he never had one to begin with. 
David Rubenstein's $195 billion private equity firm, Carlyle Group LP, has never invested in guns or tobacco, Rubenstein said in an interview on Monday with Freakonomics Radio.
"When I set up the firm with my partners, I said I didn't want to do certain things, that I found them antithetical to my own beliefs," Rubenstein told Stephen Dubner, who co-hosts the show with economist Steven Levitt. "So I didn't want to invest in tobacco-related products. We've never done that. I didn't want to invest in firearms, guns. We've never done that," he said. 
Rubenstein is the host of the Bloomberg TV and digital series, The David Rubenstein Show: Peer-to-Peer Conversations. A representative for Carlyle Group declined to comment further on the firm's investments. 
Companies and financiers are under growing pressure to divest from the firearms industry amid the outcry over mass gun violence in the U.S. After the Feb. 14 school shooting in Parkland, Fla., which has resulted in the strongest push for gun control in years, companies such as Avis Budget Group and United Airlines Inc. were pressured to end affinity deals with the National Rifle Association. 
Global financial firms are looking to avoid the same fate. More funds restrict investment in military and weapons companies than ever before, according to the Forum for Sustainable and Responsible Investment. The pool of assets that must avoid weapons companies reached $845 billion in 2016, up 138 percent from 2014.
Blackstone Group LP has been reducing its weapons exposure for years, and recently looked to verify that no gun investments remained in its portfolios, according to the Wall Street Journal. The investment giant BlackRock Inc. said it was exploring ways to cull gun companies from the portfolios of clients who no longer wish to invest in them.
Senator Elizabeth Warren, a Massachusetts Democrat and frequent critic of Wall Street, last week called on the nation's largest investors to take a stand on financing gun companies.
"It's time to put your money where your mouth is," Warren wrote BlackRock Chief Executive Officer Larry Fink in one of nine letters she sent to large holders of gun company shares. "You have reaped significant benefits from your investment in gun manufacturers, but have done little to reduce the violence and murders caused by their products. I urge you to begin to use your vast investment in gun manufacturers to prevent gun violence."
— With assistance by Polly Mosendz
(
Corrects Rubenstein's title in the headline.
)
Quotes from this Article
Before it's here, it's on the Bloomberg Terminal.
LEARN MORE