markets
Bond Market to Inflationists: Watch Out for Price Headwinds
By and
Breakeven curves suggest price acceleration may not last long

Inflows into bond funds with inflation protection pause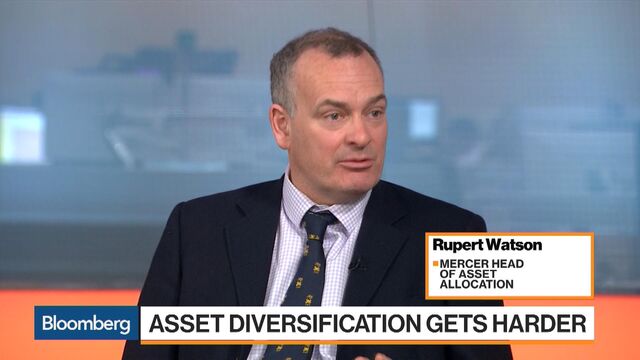 Betting on higher inflation finally seems to be working, but it might not last long.
In the U.S., yields and break-even rates have been climbing as data suggest stronger growth in the economy and wages. And yet warning signs are emerging that the gains may be fleeting for inflation wagers. In Europe, the trade appears to have peaked, as reflected in benchmark break-even securities.
Here's a look at what markets are saying about expectations for inflation.
Running for Cover
In recent months, investors have piled into assets that offer shelter from price risks. That came as the U.S. five-year break-even rate -- a market-derived gauge of expected inflation -- rose to the highest level in nearly five years. A similar measure in Germany climbed to the most since May 2013 amid evidence that tens of trillions of dollars in stimulus from central banks are working.

Yet the spread between U.S. five- and 10-year break-even rates, signaling price expectations in the medium term, has narrowed to the least in nearly a year. While some of this may be down to seasonality (the spread tends to tighten at the start of the year), it also signals that investors don't see a significant long-term acceleration in price growth for the world's largest economy.
"There are a number of structural factors out there which would subdue inflation," said Mohit Kumar, head of rates strategy at Credit Agricole SA in London. "A flatter break-even curve tends to suggest the rise in inflation could be short-lived."
Profiting from an inflation trade typically requires taking a position for the spread to widen between nominal and index-linked bond yields.
The Flow Show

Inflows into bond funds that offer protection from inflation took a breather in the week to Feb. 28, with a $26 million outflow. That ends an 18-week buying run worth $11 billion, according to Jefferies Group LLC, citing EPFR data.
All told, inflows into inflation-protected bonds stand at a non-trivial $6.7 billion so far this year, around 5.5 percent of the funds' assets.
The $24.7 billion iShares TIPS ETF, the largest U.S.-listed passive vehicle that tracks Treasury inflation-protected notes, shows a similar story. In the week to March 1, investors withdrew $168 million, undercutting its inflow so far this year to a still-healthy $953 million, compared with $2.6 billion for the whole of 2017.
Growth Clues
Many data points still point to an uptick in prices. Wage growth in the U.S. has picked up at the fastest speed since the financial crisis. Inflation in the U.K. is near the highest since 2012 while risk of deflation in the euro region has receded as unemployment fell to the lowest in eight years.

But there's also evidence of price-growth peaking. The copper-gold ratio is watched as an indicator for the direction of global expansion. The price of the industrial metal in terms of the precious metal has fallen from this year's high, an indicator of easing growth and hence inflationary pressure.
Taking Stock
Investors in equities that are most exposed seem unconvinced that inflation has really returned for now. An index of shares with the highest estimated U.S. labor costs as a percentage of revenue has been outperforming its low-labor-cost counterpart since the end of last year and continued to do so even after the February slump.

That's the opposite of what should happen as wage growth accelerates, according to index designer Goldman Sachs Group Inc.
Base Case
The bottom line: investors are struggling to gauge how far prices can go. A key indicator of economic strength in the euro zone weakened in February, purchasing managers' index data showed on Monday.
In coming months, a so-called base effect may drive inflation higher -- but further upside pressure may be limited by a number of structural factors.
Skill gaps, new technology, and demographics could all reduce the pass-through effects of low unemployment into wage inflation. What's more, history shows that wages haven't been a good signal of U.S. inflation in more than three decades.
Labor Markets, Oil
"With digitalization representing the next massive sea change to labor markets in coming years, however, U.S. inflation is set to return to normal levels and we don't expect an overshoot," said Christoph Rieger, head of fixed-rate strategy at Commerzbank AG in Frankfurt.
Oil is among key factors driving inflation. While prices have picked up since June, growing concern over booming U.S. shale supply and increased popularity of alternative energy may derail OPEC's strategy to reduce output.
That's probably why not every investor is keen on inflation bonds, especially in the euro area, where the rate is still well below the ECB's target of close to 2 percent.
"I don't see a lot of value at these levels," said Patrick O'Donnell, portfolio manager at Aberdeen Asset Management. "I wouldn't expect core inflation to rise significantly higher in the short term."
— With assistance by Sid Verma, and Cormac Mullen
Before it's here, it's on the Bloomberg Terminal.
LEARN MORE