business
Airbus Signals Job Cuts at Troubled Jumbo, Military Projects
By
Planemaker to meet with worker representatives on Wednesday

A380, A400M rate reductions may affect thousands across Europe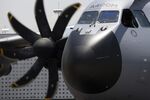 Airbus SE is preparing to announce jobs cuts at two troubled aircraft programs that have been weighing on earnings for years as the planemaker moves to cut manufacturing costs.
Airbus's management will meet with its European Works Council on Wednesday to explain reductions in the production rates of the A380 superjumbo and A400M military-transport programs and "discuss associated implications for the workforce," it said in a statement Monday.
Some 3,600 jobs are likely to be affected, with four plants in Germany, one in Spain and one in the U.K. set to be hit, Challenges magazine said, citing people familiar with the matter. Bavaria's Economy Minister Ilse Aigner suggested the cuts might be achieved without layoffs, Augsburger Allgemeine reported.
Toulouse, France-based Airbus called the reports "excessive," while declining to comment further before sitting down with worker groups, as is required under national labor laws in some countries.
Airbus is preparing to slow both the A380 and A400M programs to build rates of less than half last year's levels in order to eke out order backlogs and keep the models in production. The superjumbo has suffered from a sales drought only partially relieved by a $9 billion order from Dubai-based Emirates last month, while the troop-carrier has been hit by delays, cost overruns and performance issues that have prompted some governments to review their requirements.
Hamburg Plant
Airbus delivered 15 superjumbos in 2017 but is due to cut output to 12 planes this year and eight in 2019. Even after the 20-aircraft Emirates order, the manufacturer is working toward a rate of six annual deliveries in order to sustain the jet for a decade, by which time it reckons that increased travel and crowded airports may lead to resurgent demand for high-capacity models.
While the A380 is assembled in Toulouse, workers there could easily be moved to other projects including the newest A350 wide-body, shielding them from cuts. A site in Hamburg, Germany that fits the double-decker's interiors and applies the final livery may be more vulnerable.
Issues with the A400M turboprop have been plaguing Airbus for years, with a charge of 1.3 billion euros ($1.6 billion) announced Feb. 15 that will take total cost-overruns beyond 8 billion euros. Airbus says it has struck an outline deal with state buyers guaranteeing the model's future at slower build rates.
Some 15 planes are due to be delivered this year, down from 19 in 2017. The number will drop to 11 next year and could fall to eight in 2020, according to comments from Chief Financial Officer Harald Wilhelm at the February update.
Assembly Line
Vulnerable factories to worker cutbacks include the A400M's final-assembly line in Seville, Spain, a site in Filton, England that makes the plane's wings, plus three locations in Germany: Airbus's plant in Stade that makes the vertical tailplane and pressure bulkheads, a Bremen facility producing the cargo-loading system, and Premium Aerotec, based in Augsburg, that is responsible for fuselage sections.
Any job-cutting program must take full consideration of the impact, German Economy Ministry spokesman Philipp Jornitz said in a regular government briefing Monday.
"What's important for us is that the company makes responsible decisions, and also treats the locations and workers responsibly," he said.
Before it's here, it's on the Bloomberg Terminal.
LEARN MORE