business
A $100 Million Gift to University of Chicago Sparks a Donor War
By and
Pearsons seek to recoup donation to University of Chicago

Brothers claim in lawsuit they weren't invited to 22 events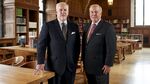 A $100 million charitable donation to fund conflict-resolution research is now a battleground.
Thomas L. Pearson and Timothy R. Pearson were widely praised in 2015 for their gift to the University of Chicago to create a namesake research institute to advance the cause of world peace.
Now their family foundation is seeking to reclaim the $22.9 million it has paid so far, claiming in a lawsuit that the school breached its obligations under the grant agreement. The Chicago Maroon, a student newspaper, reported on the complaint earlier Monday.
The Pearsons, who aren't alumni, allege the university failed to deliver on its obligations under the grant agreement. Their disgruntlement includes qualms about budgeting and hiring decisions as well as being excluded from guest lists for gatherings. Their namesake institute held at least 24 events in the 2016-17 school year but "failed to apprise the Pearson family of, or invite them to, at least 22" of them, according to the lawsuit.
Jeremy Manier, a University of Chicago spokesman, said the complaint lacks merit and that the school will "vigorously defend itself against the baseless allegations."
Read more: Pearson brothers give $100 million to University of Chicago
The squabble shines a rare light on mega gifts and the conditions that can come with them. At the time of the Pearsons' donation, it was the second-largest in the school's history. It was eclipsed last year by a $125 million gift from billionaire hedge fund manager Kenneth Griffin.
"The Pearsons believe their story is a cautionary tale that should give pause to any family, philanthropist, benefactor or donor who is considering granting a university any amount of money -- large or small," the foundation said in an emailed statement provided by a spokesman.
The Pearson brothers, twins who were raised in Iowa, envisioned their institute would pioneer a data-driven approach to help end violent conflicts. Both attended DePauw University in Indiana and Tom got a law degree from the University of Iowa.
The case is Pearson v. University of Chicago, 18-cv-00099, U.S. District Court,
Northern District of Oklahoma (Tulsa).
Before it's here, it's on the Bloomberg Terminal.
LEARN MORE