business
Ibnsina Says Confident of Winning Antitrust Case as Shares Slump
By
Shares close down 10.7% at 9.46 pounds, lowest since January

Cairo Court fined four drug companies for manipulating market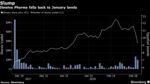 Ibnsina Pharma, Egypt's second-biggest pharmaceuticals distributor, denied on Sunday that its sales practices broke competition rules and said it was confident of overturning a fine imposed by a Cairo court.
"The opinion of the lawyers we consulted is that our position is very strong and this is why we haven't sought a reconciliation," Co-Chief Executive Officer Omar Abdel Gawad said in a phone interview.
Ibnsina shares closed 10.7 percent down at 9.46 pounds per share, their lowest level since January, after the court fined it and three other pharmaceutical companies 5.6 billion Egyptian pounds ($317.5 million) for manipulating the market.
The company said earlier on Sunday it would contest the ruling. The first hearing in the appeal will be held on May 19, Ibnsina said in a statement to the Egyptian bourse.
The Egyptian Competition Authority accused Ibnsina Pharma, Ramco Pharm, Multi Pharma and United Company of Pharmacists of colluding on sale and marketing policies by reducing financing facilities and discount periods for retailers. The practices "harmed small and medium-sized pharmacies, reduced their profit margin, limited their ability to provide medicines," the authority said in a statement on its website on Thursday.
Mona El-Garf, who was head of the Egyptian Competition Authority at the time the case was filed, said the ruling sent a message to drug companies that they would not be permitted to manipulate the market.
"We are 100 percent sure that there is a violation and we see this ruling as fair and necessary to deter pharmaceutical companies attempting to breach the law," she said in a phone interview in Cairo.
— With assistance by Filipe Pacheco
Before it's here, it's on the Bloomberg Terminal.
LEARN MORE