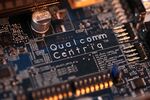 It'll be close, but Qualcomm Inc. seems to have the momentum going into its proxy showdown with Broadcom Ltd. next week. 
Technically, Qualcomm shareholders will be voting on Broadcom's attempt to overturn a majority of the chipmaker's board at the March 6 meeting. In reality, this is a referendum on Broadcom's takeover offer of $79 a share ($100 billion including debt) and the likelihood of any eventual deal getting regulatory approval. Neither the price nor the antitrust risk looks palatable right now.
Broadcom lowered its bid from $82 last month because Qualcomm raised its own takeover offer for NXP Semiconductors NV in order to win over shareholders who had opposed that deal. Yes, you read that right: Broadcom thinks it should pay less if Qualcomm's $46 billion purchase of a faster-growing automotive and industrial chipmaker is part of the bargain. Most shareholders aren't pleased with Qualcomm management and the never-ending legal issues that have ensnared its licensing business, but they also don't want to get ripped off.  
Parnassus Endeavor Fund plans to back Qualcomm's current board because the company is "worth much more" than the current $79 bid. Cambiar Investors' Brian Barish told Bloomberg News he can't support Broadcom's effort to "steal" Qualcomm. Not all Qualcomm investors are going to agree; for some, a $79 bid -- 38 percent higher than Qualcomm's average price in the year leading up to Broadcom's approach -- sounds pretty good. The problem is, there's a significant risk they might never actually see that money, no matter what happens at the meeting next week.
Qualcomm would give Broadcom a lock on much of the smartphone supply chain, and antitrust regulators are bound to have something to say about that. Adding NXP to the mix -- a deal that's still awaiting regulatory sign-off after more than 15 months -- further complicates the matter. Lawmakers have also called for the Committee on Foreign Investment in the U.S. to review Broadcom's bid before the meeting, citing national security and competition concerns. CFIUS is reportedly split on whether to intervene.
As the pushback mounts, I'm starting to wonder how serious Broadcom is about the deal at this point and if it's playing hardball as a way to save face. The two sides disagree about the extent of Qualcomm's engagement with Broadcom, but my takeaway from all these press releases is that Broadcom is unbending on the issue of price and dismissive of many antitrust issues.
To some extent, I understand that. Broadcom CEO Hock Tan wants to remain disciplined and he will already need to undertake meaningful divestitures and a hefty cost-cutting push to support the current bid. But there's a reason $100 billion deals don't get done overnight. You have to negotiate and give a little. It's mind-blowing that Broadcom isn't asking for due diligence. For one, as a general rule of thumb, you should not pay $100 billion for something you haven't thoroughly investigated. Second, Broadcom is purposefully avoiding the chance to look at data that could justify a higher bid. 

While Broadcom has committed to divesting some businesses where there's overlap between itself and Qualcomm, it's been reluctant to commit to behavioral remedies that are almost certain to be demanded by European Union and Chinese regulators to address the impact on innovation and the overall market. It's also brushed aside the risk of a CFIUS objection based on its planned reincorporation in America -- despite the fact that its motive for that move was pretty blatant. 
Broadcom has also continued to refuse to give specifics on its plans for Qualcomm's licensing business. That's a problem because the ultimate plan will affect the value of Qualcomm and how regulators will view a transaction. The $8 billion that Broadcom agreed to pay if the merger doesn't pass muster isn't high enough for a deal of this magnitude, especially with NXP now included. The fact that it hasn't budged on this payout -- which supposedly symbolizes its confidence in the deal's approval -- is telling.
This fight is going to go down to the wire. In the end, Broadcom's inflexibility gives the edge to Qualcomm.
Before it's here, it's on the Bloomberg Terminal.
LEARN MORE