politics
Melodrama or Running Sore: Does Brexit Imperil Ireland's Peace?
By and
Brexit opponents say border posts could be target for attacks

London officials say concerns around peace process overblown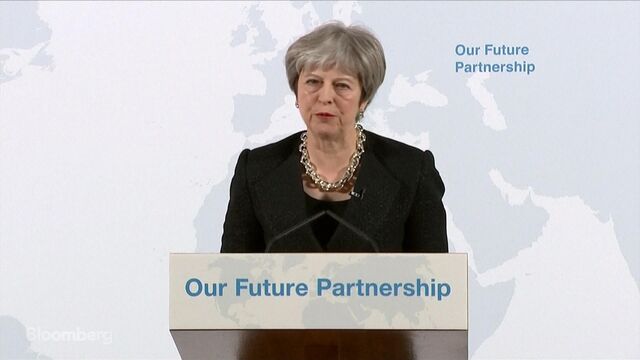 How real is Brexit's threat to the Irish peace process?
Brexit opponents, like former U.K. Prime Minister Tony Blair, say it could be the spark that re-ignites a conflict that dogged the province for three decades. On the other side, the Northern Irish Democratic Unionist Party, which keeps Theresa May in power, says it's just "scaremongering" and officials in London privately call such comments melodrama.
The truth probably lies somewhere in between. Despite ongoing tensions in Northern Ireland, there seems little prospect of the widespread conflict that claimed 3,500 lives erupting again. 
Against that, new border posts resulting from Brexit could be a target for sporadic attacks and entrench divisions between the unionist and nationalist communities, which remain, to an extent, distrustful of each other. Brexit divisions run broadly along sectarian lines.
"A hard border will become a running sore, echoing to some degree the intense grievance felt in border communities over 'cratering' of local roads by the British Army during the Troubles," said Edward Burke, assistant Professor in International Relations at Nottingham University, who is researching the effect of Brexit on the British-Irish security relationship. "Attacks would likely be reasonably small, limited in scale and efficiency."

During the conflict, the British army closed more than 200 border roads by destroying bridges, creating physical barriers and cratering roads along the frontier, which was created in 1921 as Ireland was carved up.
Read more: Why Ireland's Border Is Brexit's Vexing Puzzle
Border controls melted away in the 1990s as the Good Friday Agreement peace agreement largely stilled the sectarian violence and both countries' membership of the European single market meant customs checks were unnecessary. Irish, British and European figures who oppose Brexit warn against risking that peace.
"Don't play with the achievements of the past, don't play with the peace process," Manfred Weber, leader of the Christian Democrats in the European Parliament, warned U.K. Foreign Secretary Boris Johnson, after he played down the need to avoid any border on Ireland.
Such concerns are overblown, according to one official in London, who asked not be identified due to sensitivities around the issue. While acknowledging the border and peace process are interlinked, the official pointed out that customs checks went on as the peace process bedded down without widespread problems.
The DUP is blunter.
"In some quarters, the pain of leaving the EU is still raw and they will use any trick in the book to make sure Brexit is not a success, but you have to draw the line when has-been politicians use the troubles situation in Northern Ireland for their own ends," DUP lawmaker Sammy Wilson said. "They should be ashamed of themselves for using the hard-won relative peace in Northern Ireland to attempt to overthrow the Brexit plan."
There are few signs of wide-scale conflict waiting to erupt.
On Thursday, British security services cut the threat level for Great Britain from Northern Irish-related terrorism. In January, one of the few remaining active terrorist groups opposed to the peace process called a ceasefire, saying the "environment is not right for armed conflict" at this time.
For all that, perils remain. The threat level to Northern Ireland from domestic terrorism remains severe, according to the security services, meaning that an attack is highly likely. The region's police service says Brexit could make the fight against terrorism trickier.
George Hamilton, the region's police chief, has warned that losing the framework provided by the European Arrest Warrant system endangers co-operation between officers between the two sides. May has said she wants to maintain the benefits of the European Arrest Warrant after Brexit.
"The clock is ticking" to find a solution, he told a House of Lords Committee in January.
Brexit also poses a wider threat to the progress in the province, by deepening divisions between the region's two dominant communties.
Northern Ireland voted to stay in the EU by 56 percent to 44 percent. That was because of strong support among Catholics rather than the Protestants who back unionist parties like the DUP, according to John Garry, Professor of political behavior at Queens University in Belfast. Catholics voted to stay by 85 percent, while Protestants voted to leave by 60 percent, Garry said. Three quarters of DUP voters opted to leave, he said.
"There was a widespread sense of optimism about Northern Ireland's future not long ago - that things could and likely would get better," said Burke. "That sadly is no longer the case but jettisoning the Good Friday Agreement would be an act of supreme self-harm for Northern Ireland, the U.K. and Ireland."
Read more: Ex-IRA Man Says Brexit Threatens Economy Not Peace in Ireland
— With assistance by Jonathan Stearns
Before it's here, it's on the Bloomberg Terminal.
LEARN MORE