charted
Beer-Can to Car Makers Set to Feel Pinch of Trump Tariffs
The proposed plan risks driving up metal prices and the cost of goods produced
By and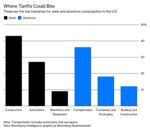 President Donald Trump's plan to apply tariffs of 25 percent on imported steel and 10 percent on aluminum is unnerving producers in the U.S. and around the globe. The proposed tariffs risk driving up metal prices and in turn the cost of everything from cars to beer cans, according to manufacturers. "It's negative for downstream companies," said Darwei Kung, the head commodities portfolio manager at Deutsche Asset Management.
— With assistance by Sophie Caronello
Before it's here, it's on the Bloomberg Terminal.
LEARN MORE