politics
Get Ready for the Steel Wars
By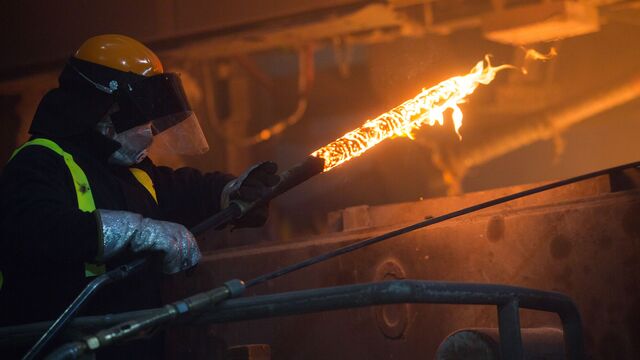 Want to receive this post in your inbox every morning? Sign up for the Balance of Power newsletter, and follow Bloomberg Politics on Twitter and Facebook for more.
Get ready for the steel wars.
President Donald Trump is set to announce steep tariffs on steel and aluminum imports today, risking retaliation from China and others. 
The timing of the move, which was expected, carries a sting for China: President Xi Jinping's top economic emissary is in Washington this week for meetings to ease tensions between the world's two biggest economies. It also comes as China's rubber-stamp parliament gets set to allow Xi to rule indefinitely. 
Trump's steel play isn't without risk: It may hurt friends and allies such as Canada, Mexico, South Korea and the European Union. China pointed out that such a change would also hit American consumers.
Yet Trump may relish a chance to shift the spotlight from a probe into Russia's meddling in the 2016 election. This week, he openly sparred with Attorney General Jeff Sessions and saw Hope Hicks — one of his closest aides — announced plans to resign.
As with any new trade policy, the devil will be in the details. Much depends on the scope of tariffs and whether certain countries get exemptions. Either way, the trade war drumbeat is getting louder.

Global Headlines
Show of strength | President Vladimir Putin showed off video simulations during his annual address to Russia's Federal Assembly today of new nuclear missiles that he said can't be stopped by U.S. defense systems. Putin, who complained the U.S. ignored Russian objections to its missile defenses, put on the display of power less than three weeks before presidential elections. "Nobody listened to us. Listen now," he said.  
Isolated president | Hope Hicks's White House departure punctuates the escalating attrition in Trump's inner circle as his presidency encounters its worst turbulence. Thirty aides — including Trump's son-in-law Jared Kushner — had their security clearances downgraded, Margaret Talev and Jennifer Jacobs exclusively report, further isolating him from loyalists he relied on in 2016 as the Russia election-meddling probe intensifies and the midterm elections approach. 
Gun stunner | Republican lawmakers resisting new firearms restrictions lost political cover yesterday when Trump and two retailers backed stricter limits. Trump surprised lawmakers of both parties when he endorsed broad legislation to expand background checks, raise the minimum purchase age and strengthen metal health protections during a White House meeting. Walmart joined Dick's Sporting Goods in pledging to increase its firearms and ammunition purchasing age to 21.
Labor pains | Japanese Prime Minister Shinzo Abe pledged to push ahead with his remaining labor reforms after an uproar over an error-ridden study forced him to abandon plans to pay more workers for output instead of hours worked. The retreat was an embarrassment in Abe's drive to reverse labor shortages as the world's third-biggest economy ages. 
May's move | Brexit talks are deadlocked yet again, and British Prime Minister Theresa May is under pressure to provide a fix to the Irish border problem in her major speech tomorrow. As Flavia Krause-Jackson and Emma Ross-Thomas write, May's decision eventually will boil down to whether to agree to a customs union with the European Union — that would solve the Irish riddle but enrage hardliners — or leave it and infuriate pro-EU Conservatives. 
And finally… May wasn't letting the Brexit strain show at last night's Westminster correspondents' dinner — not exactly the comfort zone for a prime minister known as the 'Maybot' for her wooden delivery. She took aim — successfully — at cabinet colleagues, members of the press and her predecessor David Cameron, who missed the event because he was stuck in the snow. But some of the best lines were digs at herself: "What says 'Theresa May' more than a comic speech at a boozy dinner for a room full of journalists? I feel right at home."

— With assistance by Kathleen Hunter, and Stuart Biggs
Before it's here, it's on the Bloomberg Terminal.
LEARN MORE