politics
U.K.'s May to Face Cabinet Split Ahead of Key Brexit Speech
By , , and
Davis, Johnson oppose idea of binding commitment to EU rules

May re-drafting text of key speech on Brexit trade with EU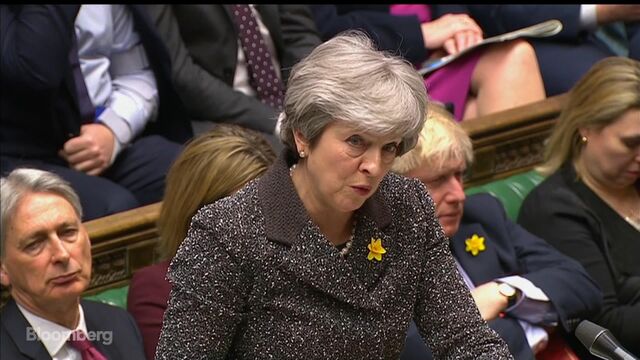 Prime Minister Theresa May is facing divisions in her Cabinet on how far she should aim to keep the U.K. in line with European Union rules as she prepares to reveal her latest thinking on Brexit.
The problem is that even after a two-hour meeting where many top ministers said they were broadly happy, the key question of how close -- or far -- to be to the bloc remains unanswered, according to people familiar with the matter.
Some pro-EU ministers like Greg Clark want her to make a binding commitment to align Britain's rules and regulations in key industry sectors with those of the European single market. Others, including Brexit Secretary David Davis and Foreign Secretary Boris Johnson pushed back against this idea.
That means that even though Brussels is clamoring for clarity, the EU might not get the specifics they want. May is taking on board changes suggested by both pro-EU ministers and euroskeptics, one official said, and asked ministers to allow her some flexibility to make her own changes -- and they agreed.
Embattled Anti-Brexit Tories Get New Mojo From John Major
In a major speech on Friday, May hopes to settle the question of Britain's place in Europe by spelling out the contours of an economic partnership that will include trade and security. The stakes are high given that it's almost been a year since May began the Brexit process -- and lots of key issues including what to do with border with Ireland are unresolved.
At a Cabinet meeting on Thursday, every member gave their view. "The point of the meeting was to have a genuine discussion before the prime minister finalized the text," May's spokesman James Slack told reporters earlier in London. All speeches are "a work in progress until they are delivered."
May's speech comes at a critical time in the Brexit process, with just three weeks left until the EU is due to agree its negotiating stance for trade talks at a leaders' summit. The premier needs to set out her vision and then seek to persuade her European counterparts to back it -- or at least consider it -- before the summit starts on March 22
— With assistance by Ian Wishart, Marine Strauss, Thomas Penny, and Robert Hutton
Before it's here, it's on the Bloomberg Terminal.
LEARN MORE