markets
Dan Loeb Tells Investors to Keep Eye on 'Rosy' Growth Outlooks
By and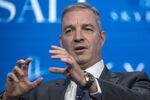 Dan Loeb said while he's watching inflation and interest rates, the bigger concern is if investors are overly optimistic about earnings and economic growth.
"The more pressing issue is whether the rosy assumptions that everybody has about earnings growth this year and next year will be met," Loeb said Thursday on a conference call discussing results for Third Point Reinsurance Ltd., where he oversees investments. "I'm not saying they won't be met, but it's definitely something, given some of the recent economic data which tends to be noisy, we need to keep an eye on."
Equally important is examining "growth expectations," he said. "I'm not saying that growth is a problem but it's definitely an issue that we're looking at."
U.S. gross domestic product is expected to grow 2.7 percent this year and 2.4 percent in 2019, according to a Bloomberg survey of economists. Loeb, whose investments returned about 18 percent in 2017, said the stock market this year probably won't have the same tailwinds it had last year. That includes low volatility, which often hinders performance of hedge fund managers.
"As far as positioning the portfolio, we've been in the process of reducing both gross and net, to be more nimble in what we think will be more of a range bound market this year," he said.
Third Point Re, based in Bermuda, said net income jumped to $277.8 million for 2017 from $27.6 million the year earlier, helped by Loeb's investing performance, according to a statement on Wednesday.
— With assistance by Brandon Kochkodin, and Gilbert Xu
Before it's here, it's on the Bloomberg Terminal.
LEARN MORE