cryptocurrencies
Digital Tokens Rise Even as SEC Bears Down
By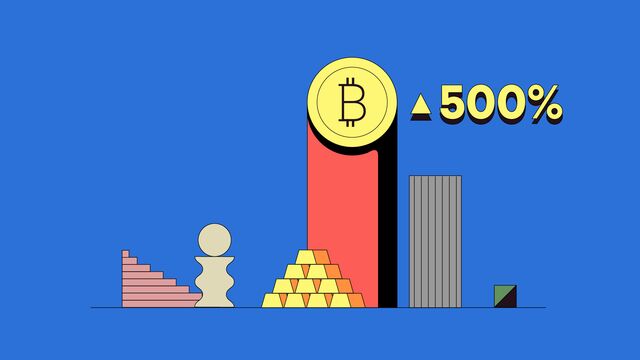 Securities regulators in the U.S. are reportedly investigating a large number of digital-asset projects yet the market is responding with a resounding: "Crypto don't care."
Bitcoin gained as much as 3.2 percent to $10,873, while most of the largest cryptocurrencies also strengthened. Not even the smaller coins, the ones most likely to fall under Securities and Exchange Commission scrutiny, are getting hit, according to the MVIS CryptoCompare Digital Assets 100 Small-Cap Index.

Bitcoin is shrugging off a crackdown on initial coin offerings as it's seen as the relative safe haven in the digital-coin market and traders often switch to the biggest coin by market value when there's turbulence in the smaller coins. The largest cryptocurrency became known as the honey badger of money in 2013, when early crypto evangelist Roger Ver set up a billboard near San Francisco, making the connection between Bitcoin and a viral video of a honey badger, where the narrator repeated it didn't care about the many obstacles it faced.
The smaller coins might be up because many don't fall under U.S. oversight; about 80 percent of ICOs happen outside the U.S., according to ICO Watch List website. ICO funding has continued to surge, even amid the SEC warnings. Entrepreneurs have raised more than $3 billion so far this year, more than half of the entire amount raised in 2017, according to Coin Desk data.
The SEC in July said that some tokens sold in ICOs should be considered securities, while last month Chairman Jay Clayton had said that most tokens he's observed probably are securities. Still, the SEC has only cracked down on a handful of projects.
To some, increasing SEC oversight is positive. Institutions see greater regulation as the necessary condition before jumping in, vice president of trading and derivatives with Charles Schwab & Co. Randy Frederick said in an interview Wednesday.
"As a brokerage firm we're much more cautious about being involved until we know that it has proper regulatory oversight," he said. "Right now it doesn't."
Carlos Mosquera, who runs crypto hedge fund Solidus Capital, said he's waiting to see which projects the SEC subpoenaed. To him, if it's the scams or projects that clearly sold equity-like tokens, it will be a positive development. If it's what he considers legitimate token projects, then there are more reasons to be concerned.
Blockchain-related stocks are definitely not taking the news well, with Overstock.com down as much as 10 percent and Riot Blockchain down more than 4 percent, as they're the most directly susceptible to regulation. Overstock disclosed Thursday that it was asked by SEC for information on its planned ICO.
Before it's here, it's on the Bloomberg Terminal.
LEARN MORE