technology
India's Outback Coal Bets Sour as Global Prices Recover
By and
Galilee Basin mines stalled by financing, legal challenges

Adani Group planning massive $16.5 billion Carmichael mine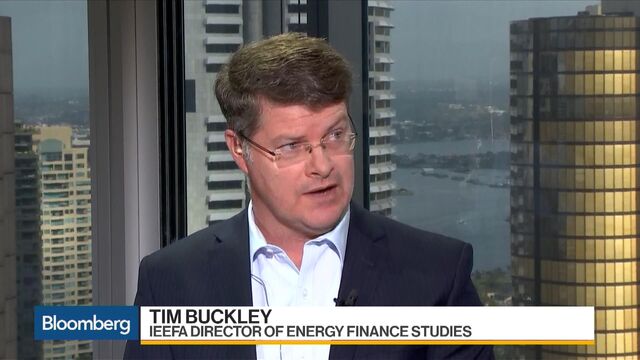 Australian mining legend Lang Hancock's dream four decades ago of exporting coal from the country's remote Galilee Basin is becoming a nightmare for two Indian conglomerates.
Adani Group bought into the Queensland basin in 2010, followed a year later by GVK Group, with plans to ship thermal coal by the middle of the decade. Deals to build ports and rails signaled early promise, but the projects became embroiled in legal challenges and financing setbacks. Adani now sees first exports from its massive Carmichael mine around 2020, six years behind schedule, as it struggles to shore up financing, with the federal government making clear Wednesday it won't help with investments or loans.

"There are regulatory and environmental infrastructure requirements, which have thrown up significant hurdles," said Daniel Hynes, a Sydney-based analyst at Australia & New Zealand Banking Group Ltd. "There's still a chance we won't see Galilee supply in the market in the foreseeable future. It's nothing to do with the quality of the coal. It's more around the infrastructure, which has been quite difficult to overcome."
Hancock, who was among prospectors that discovered Australia's iron ore riches in the 1950s, reportedly told a gathering 40 years ago at a hotel in the rural town of Alpha that the area was getting a coal mine. Decades later, it's still waiting and the challenges of making the mine viable endure.
Remote Basin
The Galilee Basin holds large deposits of thermal coal, burned to generate electricity, over its 247,000 square kilometers (95,000 square miles), but its remote location and lack of water, power and rail infrastructure have discouraged large-scale mines, according to the state government. It's about 200 kilometers (124 miles) inland to the west from the Bowen Basin, where miners including BHP Billiton Ltd. and Anglo American Plc produce metallurgical coal, used to make steel.
"Isolation is absolutely key," Tim Buckley, director of energy finance studies for Australasia at the Institute for Energy Economics and Financial Analysis said in a Bloomberg TV interview Thursday. "There is no workforce, no infrastructure, no power, no roads, no railways, no airport. So everything has to be built from scratch."
The GVK venture, known as GVK Hancock, didn't respond to emails or a phone call seeking comment on first sales. Its chief executive officer left in 2016 and the company is still without a replacement. G.V. Sanjay Reddy, vice chairman at the group's publicly traded unit in Secunderabad, India, declined to comment.  
Adani's proposed A$16.5 billion ($12.9 billion) Carmichael project includes the construction of a 388 kilometer rail line to the Abbot Point port and the development of Australia's largest thermal coal mine, which will have the capacity to produce as much as 60 million tons a year. The venture is facing strong opposition from environmentalists who say it will increase carbon pollution and endanger the health of the Great Barrier Reef marine park.

A timeline of the Galilee developments include:
August 2010: Adani Enterprises, controlled by billionaire Gautam Adani, agrees to buy a coal tenement in the Galilee from Linc Energy Ltd., which is slated to become the Carmichael mine, with first sales expected by end of 2014.
September 2011: GVK Power & Infrastructure Ltd., led by GV Krishna Reddy, buys stakes in projects held by Australia's Hancock Prospecting Pty, flagging first output in 2014

Newcastle coal price averages about $123 a ton that month before starting a slump that lasts more than four years

2012 to 2014: Companies gain environmental approvals and sign separate deals on rail and port development with groups including Korea's Posco and Samsung C&T Corp. GVK Hancock signals first exports by 2017
June 2016: GVK Hancock CEO Darren Yeates departs the company
December 2017: Three of China's largest banks join other lenders to rule out financing Carmichael; Adani cancels a planned A$2 billion deal with Downer EDI Ltd. to help construct the project
February 2018: Rail operator Aurizon Holdings Ltd. withdraws its application for government funding to help build a line to the Galilee due to a lack of customer contracts; Adani says it will miss March deadline for financing package

Newcastle coal averages about $100 a ton that month, extending a two-year rebound
— With assistance by Rajesh Kumar Singh
(
Updates with analyst comment in sixth paragraph.
)
Before it's here, it's on the Bloomberg Terminal.
LEARN MORE