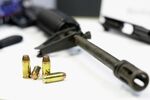 In correcting social ills, money hasn't talked as loud as some would like, at least so far. That hasn't stopped those who are trying to prevent more mass shootings from giving the adage a try.
Pressure has mounted on businesses to sever ties to the gun industry and its lobbying organization, the National Riffle Association, in the wake of the Florida school shooting that killed 17 students and teachers two weeks ago. And there has been some success. Dozens of companies have said they will quit offering special deals to NRA members. On Wednesday, Dick's Sporting Goods Inc. said it would no longer sell assault rifles and would set an age limit of 21 on all gun sales.
And that pressure has extended to Wall Street and investors. Pension funds, and those who manage money for teachers in particular, have been facing pressure to sell the stocks of gun makers. BlackRock Inc. CEO Larry Fink, who wrote a letter just last month to other CEOs imploring them to be more socially minded, said in response to calls that the firm should sell gun stocks that it would instead "engage" with the companies around current events.
Pushing for divestment to stop the proliferation of guns may seem like the perfect way around lawmakers who have done little despite repeated mass shootings. And the idea seems simple: If everyone were to sell gun stocks, those companies' share prices would drop to zero, inevitably taking their business down with it. Unfortunately, previous divestment movements have failed to achieve that desired outcome.
Consider tobacco stocks. In 2000, California's pension plans said they would no longer invest in tobacco companies. Many other large pension funds followed suit, or said they would. More than 17 years later, tobacco companies are far from out of business. Sales at Altria Group Inc., the old Philip Morris and the largest U.S. cigarette maker, are up nearly 30 percent in the past decade to nearly $20 billion a year. More perplexing to divesters should be the fact that Altria's stock since 1999 has been a stunner, delivering a return, with dividends, of nearly 3,300 percent through January, or rough 19 times the S&P 500's nearly 175 percent gain in the same period.
The 1980s campaign to shun companies that did business in South Africa does seem to have met its goal and was championed by activists. But a decade later, a study found that divestment probably had little to do with the end of apartheid. The authors found the movement had no effect on the shares of U.S. companies that did business in South Africa.
In part, the problem of divestment has to do with what the stock market is and isn't. Bloomberg reported that teachers in Florida were shocked to find that they were in part funding the company that makes the gun used in the Parkland shooting. Florida's teacher's pension fund owns shares of American Outdoor Brands Corp., which makes AR-15 assault rifles. But the stock market is not really where companies fund their businesses, at least not regularly. It's where the shares of companies that have already been funded trade. The last time American Outdoor Brands sold stock was in 2009. In that sense, getting banks to shun gun makers, while maybe harder to achieve, could deliver a bigger blow to the industry than divestment. The stock market does do a good job of moving money toward more valuable companies. But the stock prices, in general, follow the fortunes of the businesses, not the other way around.
What's more, divestment campaigns are hard to organize and even harder to maintain. While many pension funds followed California out of tobacco, plenty of others didn't. New York State's pension fund is still big investor in tobacco stocks. Even California in recent years, after seeing the gains in the stocks that they missed out on, has considered going back into tobacco makers, though it decided to continue the ban in 2016. The divestment campaign against oil companies, which is championed by none other than the descendants of John D. Rockefeller, who made his fortune in oil, has gotten less traction than tobacco. And the gun divestment campaign has had a slow start so far. Florida's pension manager has not responded to calls to sell its gun shares in the past two weeks. Iowa's largest pension fund, which has one of the largest stakes in gun companies among pension funds, says it has no plans to alter its investments.
Whats more, the rise of index funds, which blindly buy stocks in relation to their proportion of the market, rather than their businesses or their prospects, may make it harder for investors to disentangle themselves from gun stocks than in the past.
But all this might be too harsh on the divesters. The problem may not be divestment campaigns themselves but that advocates have set the bar for them too high. That is the opinion of David T. Robinson, a finance professor at Duke's Fuqua School of Business, who has studied the evolution of corporate America's social consciousness. Robinson says divestment campaigns may have not put companies out of business, but they have changed corporate behavior and trajectories. Altria, for instance, spun off its Kraft snack business, in part because of divestment drag on its stock. Without that, Altria could be a much larger company now. Exxon Mobil Corp. regularly details its investment in green initiatives, which is a good way to keep more calls for divestment at bay.
And there does appear to be a general rise in woke capital, with corporations like Apple Inc. speaking out against state laws that it contends discriminates against gay people as well as the wide corporate condemnation last summer of President Donald Trump's remarks after the Charlottesville march. But even that has limits. At JPMorgan Chase's investor day on Tuesday, CEO Jamie Dimon called shareholder meetings a waste of time, mostly because they have been a forum for social activists and not those who actually care about his bank's business, which speaks to how woke corporate America actually is.
So while divestiture might help on the margin, looking to Wall Street to do Washington's job when it comes to controlling guns and ending school shootings is a misfire at best and a waste of time and effort at worst.
Before it's here, it's on the Bloomberg Terminal.
LEARN MORE