Food
Argan Oil Is the Latest Hard-to-Find Ingredient Chefs Are Reaching For
Not just for your hair anymore.
By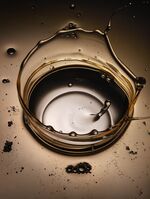 Over the past decade, a trend we'll call farm to face (beauty products based on ingredients traditionally found on a plate) has exploded. From green-tea cleansers and turmeric creams to Philippine pili nut oil serums, natural treatments dominate the cosmetic world. Rarely does an ingredient cross the aisle the other way, from beauty to hot culinary commodity. Argan oil is the exception.
The short, bushy argan tree, abundant in Morocco, is the source of the nutritionally rich oil. Historically, the nuts were retrieved from the droppings of goats that climbed the trees to eat the fruit. That practice has unsurprisingly been phased out; now the nuts and the oil-producing kernels within are harvested by hand. Unlike cosmetic argan oil, the fluid that's destined to be a culinary product comes from kernels that are roasted before pressing. The resulting flavor is earthy and slightly smoky; while premium olive oils tend toward grassy or buttery flavors, argan oil has an underlying nuttiness, without the in-your-face flavor of varieties such as pumpkin seed. It smells like peanut butter.
Because production is labor-intensive, argan is one of the world's priciest edible oils. A liter costs about $130; by contrast a high-quality extra-virgin olive oil goes for about $40. The health benefits are notable: Argan oil is credited with helping to control cholesterol, aid digestion, and relieve arthritis. U.S. sales of all varieties (including cosmetic, medical, and culinary brands) are projected to hit $1.08 billion by 2025, according to a 2016 report by Grand View Research Inc.

The oil is too expensive to be used in regular cooking, as vegetable or olive oil is. Toss it with greens or drizzle it on fish to lend flavor. Or serve the oil as an elegant, umami-boosting base for a dressing or even a dessert.
A major face in the edible argan oil movement is Dana Elemara, founder of London-based Arganic Ltd. The Telegraph credited her with "introducing argan oil, known for its cosmetic uses, to British kitchens." Elemara, a former analyst at a graduate program at Goldman Sachs Group Inc., started the line in 2012 after spending two years in Morocco researching the product.
"I'm a Londoner born to Iraqi parents who raised us on a Middle Eastern diet," she says. "I grew up eating loads of olive oil and putting it on my hair. The nature of argan oil was familiar to me."
Her first sale was to designer Tom Dixon at a Christmas market in 2012. Since then her distribution has spread to Marks & Spencer Group Plc, which sells the oil at more than 300 of its shops. Arganic is one of the few nonhouse brands on offer there. Although the majority of her sales come from cosmetic argan oil, Elemara believes the future is the culinary version.
"When I left finance and looked at new businesses, I realized that argan oil could link me to the British food scene in a way that worked for my 10-year plan," she says. A 100-milliliter bottle costs £12 ($16.75)

Other Arganic customers include the Israeli chef Yotam Ottolenghi, who sells the oil online, and the iconic London restaurant the Ivy. In 2017, Arganic's sales were just short of $300,000; in 2018, Elemara says she plans to expand the company by 100 percent in part by selling on Ocado, the popular British online shopping market, and by venturing out to restaurant groups across the country. She's also been approached by Dean & Deluca about expanding to the U.S.
Among Arganic's U.S. fans is Michael Solomonov, the James Beard Award-winning chef and co-owner of the Israeli restaurant Zahav in Philadelphia. He also praises the oil brand Oren, bottles of which he buys when he's in Israel. He discovered the substance in 2006.

"It was at a food show, of all places. Cured bonito with grapefruit and argan," he says. "I thought, Wow. This oil is incredibly rich. It really wakes up the oil in the fish."
Solomonov also uses it to accent couscous and stews, and even as a base for ice cream. "It's a good substitute for brown butter in my book," he says.
Jamie Bissonnette stocks the oil at his Toro restaurants in Boston, New York, and Dubai, making a dressing for oysters and tossing it with hay-smoked carrots and beef heart with romesco sauce. "I love its unique nuttiness. It's a standout for earthy dishes," he says. "I wish it wasn't so pricey. But it's like a great single varietal olive oil. So it's worth it."
Bissonnette first tasted argan oil at the now shuttered Clio restaurant in Boston. In the early 2000s chef Ken Oringer served a dish of calamari ragout with spiced carrot emulsion. As for Oringer, he came across it in Paris at the legendary Pierre Gagnaire restaurant.
"It was a eureka moment," he says. "I had never tasted anything like it. I brought 6 liters of it back with me to the States. I had to have it."
Before it's here, it's on the Bloomberg Terminal.
LEARN MORE