business
Weinstein, Wynn Fallout May Not Fade Fast Thanks to N.Y. Probes
By
Officials' lawsuits add to legal trouble facing the companies

State involvement seen bringing better results for victims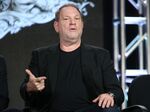 The departures of Harvey Weinstein and Steve Wynn under a cloud of sexual misconduct allegations is doing little to shield their namesake companies from the ire of New York officials.
Eric Schneiderman, the state attorney general, said Monday he's continuing his investigation into the "egregious abuse" by Weinstein even as his company said it will file for bankruptcy. New York Comptroller Thomas DiNapoli said, meanwhile, that the public retirement fund he oversees will vote its Wynn Resorts Ltd. shares against all incumbent directors to punish them for not stopping Wynn's behavior.

The lawsuits the state officials have brought against the fallen entertainment barons and their alleged enablers will probably boost settlement prospects, said Robyn Sokol, a litigator with Brutzkus Gubner Rozansky Seror Weber LLP in Woodland Hills, California. The involvement of Schneiderman and DiNapoli also raises pressure on the companies to make real changes in their corporate governance, more so than if they were facing only individual lawsuits, according to Sokol.
Schneiderman earlier this month sued Weinstein Co. for failing to protect its employees from alleged sexual harassment and intimidation by Harvey Weinstein. The attorney general is in a better position than a private citizen to ensure all the victims are protected, Sokol said.

"A lot of these individuals may not want to come forward and a government agency might be able to some degree protect their privacy," she said.
Schneiderman said in his Feb. 11 complaint that any sale of the company "must ensure that victims will be compensated, employees will be protected going forward, and that neither perpetrators nor enablers will be unjustly enriched."
Weinstein Co. said Sunday it will file for bankruptcy after a $500 million bid by a group of investors fell through. A bankruptcy judge may allow the attorney general's lawsuit against the company to proceed, but any judgment or settlement will be treated as a claim in the bankruptcy case, according to Sokol.

DiNapoli, as head of the third-largest public retirement fund in the U.S., sued current and former Wynn board members and officers for breach of fiduciary duty. The board was aware since at least 2016 of the allegations against Wynn, brought up by his ex-wife in a lawsuit, and did nothing to stop his misconduct, the comptroller claims in a complaint filed last week.
The company said Feb. 12 it will expand its review of its internal policies and add directors amid criticism that its board was weak on corporate governance.
Before it's here, it's on the Bloomberg Terminal.
LEARN MORE