Trump to Convene White House Summit in Search of Biofuel Deal
By and
Oil refiners and corn farmers at odds over biofuel mandate

Farm groups warn against any move to undermine ethanol quotas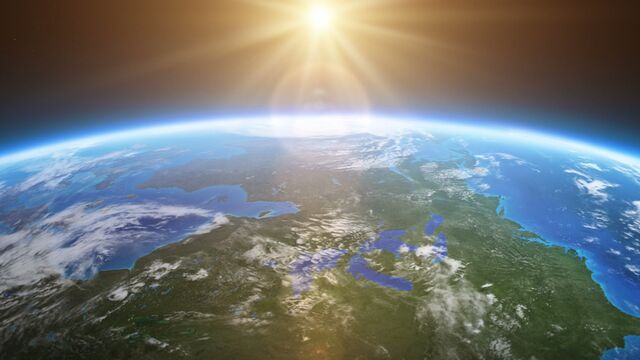 President Donald Trump is bringing together senators warring over the future of the U.S. biofuel mandate in hopes of brokering a compromise on an issue that could complicate his political future in Pennsylvania and Iowa.
Trump is set to preside over a White House meeting Tuesday that will focus on possible changes to the Renewable Fuel Standard, a 13-year-old requirement that refiners use biofuel, including corn-based ethanol. Administration officials are considering a menu of possible policy moves that could help lower oil companies' compliance costs, following the bankruptcy of the largest refiner in the Northeast.
"We are hopeful that the president can work the art of the deal in a manner that leads to a win-win solution," said Brendan Williams, vice president of government relations for New Jersey-based refiner PBF Energy Co. "There are a lot of ideas that would ensure our nation uses and produces robust volumes of ethanol, without maintaining a compliance system that puts refining jobs at risk and does nothing to support corn farmers.
The Trump administration has limited room to maneuver. Renewable Fuel Standard policy is viewed as a zero-sum game in the nation's capital, because almost every change to benefit one stakeholder disadvantages another.  It's politically fraught, pitting corn farmers in Iowa against laborers in Pennsylvania refineries. Farm groups have already warned the White House that any move to undermine the mandate will be seen as a betrayal in the Midwest.
Related: Icahn May Save $49 Million as Trump Weighs Biofuel Changes
"Any action that seeks to weaken the RFS for the benefit of a handful of refiners will, by extension, be borne on the backs of our farmers," the National Corn Growers Association, the American Farm Bureau Federation and four other agricultural groups said in a letter to president.

Tuesday's White House meeting is set to include Iowa Senators Chuck Grassley and Joni Ernst, who have opposed moves to weaken the biofuel mandate. Also scheduled to attend: Senator Ted Cruz of Texas and Senator Pat Toomey of Pennsylvania, who have argued the current policy threatens the viability of some refiners. All four senators are Republicans.
Other top administration officials also are set to participate, including Agriculture Secretary Sonny Perdue and Scott Pruitt, the head of the Environmental Protection Agency, which administers the biofuel program. They discussed the issue with Trump over lunch on Monday.

Refiners' concerns focus on how they prove they have satisfied annual biofuel quotas: using tradable compliance credits known as renewable identification numbers.
Administration officials are considering changes the government could take on its own -- without intervention from Congress -- including approving an environmental waiver that would allow E15 gasoline containing 15 percent ethanol to be sold year-round. Under current rules, the sale of gasoline containing more than 10 percent ethanol is effectively barred from June 1 until September 15 in areas where smog is a problem.
Other options include allowing renewable identification numbers that are tied to exported biofuel to count toward compliance with domestic quotas and EPA selling new ethanol waiver credits as a way to suppress costs.
"Refinery owners are circulating the same old wish list, but their proposals to undermine our agricultural economy will never fly under a president who is truly committed to policies that protect America's hardworking farmers," said Emily Skor, head of the Growth Energy coalition of biofuel producers.
Related: Refiner Bankruptcy Boosts Bid to Fix Trump's Biofuel Problem
Administrative moves to cap RINs prices and allow year-round E15 sales would be vulnerable to legal challenges and would be less durable than legislative changes.
"While the regulatory reforms being advanced are no doubt well-intentioned, the key ones are highly susceptible to legal challenges, which are inevitable and which will create only more uncertainty," said Stephen Brown, vice president of federal government affairs at Andeavor, a Texas refining, marketing and logistics company.  
Some oil industry leaders are lining up behind a legislative overhaul being drafted by Senator John Cornyn, a Texas Republican.
"We think the best way to address it is through comprehensive legislation," said Frank Macchiarola, a group director with the American Petroleum Institute. "But we're certainly appreciative that the administration is engaging in this issue."
Before it's here, it's on the Bloomberg Terminal.
LEARN MORE