politics
Trump Talks About Shooting Response but Offers Few Details
By and
Hasn't asked lawmakers to back specific bills, GOP aides say

Bipartisan legislation on background checks hits a bump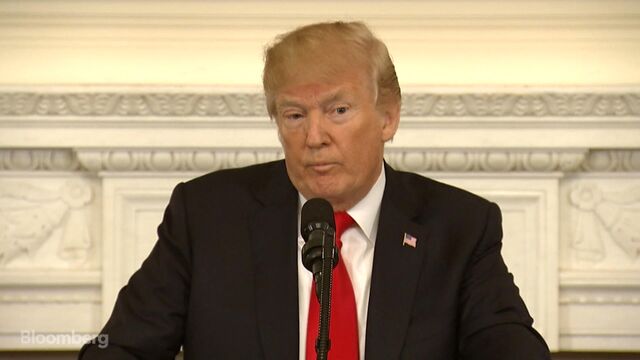 President Donald Trump has talked a lot about school shootings since the Florida massacre but so far he isn't putting his weight behind any legislative response.
Trump and his advisers have been consulting Republican lawmakers on what measures might win backing from their colleagues, but the White House hasn't yet requested their support for specific measures or committed to backing any plan, two Republican congressional aides said.
One measure the president has spoken of approvingly in public -- legislation that would close gaps in criminal records entered into the database for existing federal gun background checks -- has already hit a bump. Republican Senator Mike Lee of Utah, a staunch gun rights advocate, blocked the chamber from considering the bill under an expedited procedure.
House Republicans also are deeply divided over whether to allow consideration of the background check legislation without a provision anathema to gun-control advocates requiring all states to honor concealed carry permits issued in other states, said Representative Tom Reed, a New York Republican.
Forceful backing from Trump may be critical if any new firearms restriction is to pass Congress. Both chambers are controlled by the Republican Party, where gun-rights enthusiasts hold great clout.
QuickTake: The U.S. Gun Debate Explained
"The best way to achieve a modest, focused new gun safety law that respects the Second Amendment is for President Trump to make a clear and specific request," said Michael Steel, a Republican strategist and former spokesman for House Speaker John Boehner. "His strong relationship with the NRA, and his powerful influence with the GOP base, means that any legislation he supports should pass both Houses."
White House Press Secretary Sarah Sanders on Monday injected some uncertainty into earlier statements the president made in favor of raising to 21 the age limit for purchase of semi-automatic rifles. She cautioned that while Trump is "supportive of the concept" the idea is "still being discussed" and his backing will depend on the final form of legislation.
Political Anxiety
Trump has yet to show the clear direction members of Congress will need to undertake the political peril of imposing firearms limitations, said Representative Brian Mast, a Florida Republican.
"Lawmakers are all across the board on this -- nobody knows if they can get on board with the age or with the background checks, or with this," Mast said on CNN's "AC360" program. "I would ask the president, 'Mr. President, lead on this in the same way that you led with the travel ban.'"

White House legislative affairs director Marc Short said the administration is "anxious" to see legislation "moved on quickly," adding that he will be on Capitol Hill conferring with lawmakers on Tuesday.
Trump has voiced support for enhancing collection of criminal records and mental health information for the firearms background check system, allowing police officers to confiscate guns from the mentally ill, and encouraging some teachers in schools to carry concealed guns to fight attackers. He also has said he would take regulatory action to ban "bump stocks" that allow semi-automatic rifles to fire more rapidly.
But the White House hasn't followed up with specific plans or legislative proposals. Attorney General Jeff Sessions said Tuesday that the Justice Department, which is reviewing a potential ban on bump stocks, would "have something on that soon."
"Our top people at the Department of Justice" believe it can be dealt with "through a regulatory process," he said during a speech to the National Association of Attorneys General in Washington.
The president and his aides are coalescing on a strategy to pursue a series of separate legislative measures, starting with the bill enhancing collection of criminal records, one administration official said. The White House doubts there is currently sufficient support in Congress to raise the purchase age for guns, the official said.
Since the Feb. 14 shootings at a Parkland, Florida, high school that killed 17 people, Trump has held lengthy televised meetings with relatives of school shooting victims, survivors, and local officials and state governors.
NRA Lunch
He also had a private lunch Sunday with National Rifle Association Chief Executive Officer Wayne LaPierre and top lobbyist Chris Cox and has conferred in recent days with Republican House Speaker Paul Ryan of Wisconsin and Senate Republican Leader Mitch McConnell of Kentucky. The White House plans a meeting with bipartisan lawmakers on Wednesday.
Trump said Monday he's willing to take on the NRA though he expects the group to ultimately back his legislative proposals.
"Don't worry about the NRA, they're on our side," Trump said during the meeting with state governors. "But sometimes we're going to have to be very tough and we're going to have to fight them."
The NRA opposes raising the age for the purchase of semiautomatic rifles to 21 from 18.
Records Fix
Sanders said Trump currently supports legislation sponsored by Republican Senator John Cornyn of Texas and Democratic Senator Chris Murphy of Connecticut that would close gaps in the criminal records covered by federal background checks for gun purchases, a measure the NRA backs.
The legislation, known as Fix-NICS, would penalize federal agencies that fail to report relevant criminal records that would bar someone from purchasing a firearm under current law to the National Instant Criminal Background Check System.
Cornyn said that bill could be the catalyst for a broader legislative push, and could receive a vote as early as this week, despite Lee's objection. He said the timing was still being negotiated by lawmakers from both parties.
"To me, that's the most obvious place to start," Cornyn said. "I'm not saying to finish there but to start there."
While House Republicans support pairing that bill with a proposal to require states to recognize permits to carry concealed weapons from other states, Cornyn said he wants to pass a stand alone measure in the Senate. Sanders said she did not know which legislative strategy Trump supports.
Ryan on Tuesday gave no indication there are additional measures in the works beyond the legislation already passed in the House, which includes the background check proposal and concealed carry reciprocity measure.
Any legislation should focus on "the people who shouldn't get guns without taking away a citizen's rights," he said.
Democrats have called for more significant action to change gun laws.
"If we only pass Fix NICS, we'll be right back here after the next shooting, in nearly the same place," Chuck Schumer of New York, the Senate's Democratic leader, said on Monday. "We must do more than that."
Among other proposals, Democrats have called for universal background checks that cover private gun sales in addition to sales by federally licensed dealers, which currently require background checks.
Primary Perils
Even Trump may not be able to provide Republicans enough political cover for them to confront the risk of a primary challenge from a gun rights supporter, said Tom Davis, a former House Republican who was chairman of the National Republican Congressional Committee.
"If Trump says an immigration bill is O.K., I think that carries a lot of cachet," he said. "But on guns, I'm not sure it does."
Michael R. Bloomberg, founder of Bloomberg LP, which operates Bloomberg News, serves as a member of Everytown for Gun Safety's advisory board and is a donor to the group. Everytown for Gun Safety advocates for universal background checks and other gun control measures.
— With assistance by Steven T. Dennis, Sahil Kapur, Margaret Talev, Jennifer Jacobs, and Anna Edgerton
(
Updates with attorney general comments in 12th paragraph.
)
Before it's here, it's on the Bloomberg Terminal.
LEARN MORE