Trump Allies Launch Legal Fund for Aides Hit by Russia Probes
By and
Patriot Legal Expense Fund Trust will operate as tax-exempt

Trump, family, and staffers accused of crimes not eligible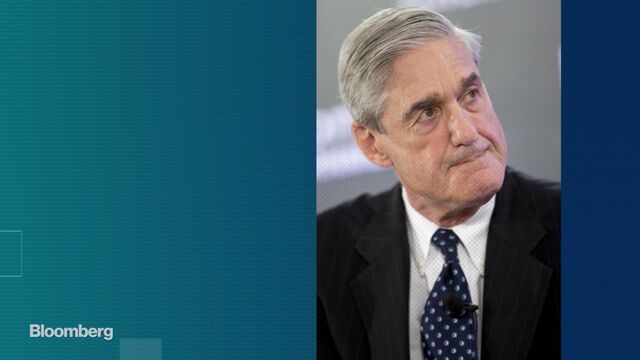 Allies of President Donald Trump have created a new fund to cover legal expenses for administration officials and associates caught up in Russia probes led by Special Counsel Robert Mueller and various congressional committees, according to a person familiar with the matter.
The project, named the Patriot Legal Expense Fund Trust, will operate as a tax-exempt political organization under section 527 of the tax code, according to documents posted to the website of the Office of Government Ethics. The fund, which is now running, was set up independently from Trump's re-election campaign, according to the person who described the process on condition of anonymity.
Trump and his family aren't eligible for the funds. Trump is paying his own legal bills related to the Russia investigations rather than charging them to the campaign or the Republican National Committee.
The fund also won't support anyone charged with a crime, according to the document. Mueller has charged 19 people, including former Trump deputy campaign chairman Rick Gates, who pleaded guilty Feb. 23 and is helping investigators.
The defense fund will set up a segregated account for current government officials that will have much more restrictive rules for contributors. Registered lobbyists, government contractors and those whose trade, business or profession is regulated by a federal agency would be among those barred from contributing to that fund.
The defense fund will accept contributions from organizations as well as individuals, the documents say.
Trump had earlier contemplated setting up his own version of a defense fund for friends and staff that he would help finance. It's unclear whether he plans to contribute to the new defense fund.
2020 Campaign
On Tuesday, conservative radio host Jack Burkman said he would host a second fundraiser to benefit the American Rights Legal Fund, which is helping Gates with his legal costs. On Dec. 19, Burkman hosted a fundraiser in which Gates appeared by video. That prompted the judge to question why his appearance didn't violate her order not to try his case in the press.
Nan Hayworth, a former House member from New York, will serve as interim manager of the fund. The fund can't accept donations from foreigners, lobbyists for other countries and anonymous sources.
The announcement comes as the campaign signaled Tuesday it was intensifying its efforts toward the president's re-election, naming Brad Parscale, the digital media director of the 2016 effort, as campaign manager.
Parscale is among numerous Trump campaign officials who could face questioning as part of Mueller's inquiry. As head of the 2016 campaign's digital efforts, Parscale worked with Cambridge Analytica, a firm that was asked to turn over internal documents as part of the probe. The firm was also in talks with Michael Flynn, the president's former national security adviser who pleaded guilty to lying to the FBI, about an advisory role.
Two other former campaign officials have also pleaded guilty to charges they lied to investigators, while former campaign chairman Paul Manafort has said he will fight allegations of tax, money laundering and other charges stemming from his work for the government of Ukraine.
Ethics Questions
Among the Trump staffers who have been interviewed by Mueller are former chief of staff Reince Priebus, former spokesman Sean Spicer, and National Security Council chief of staff Keith Kellogg, according to people familiar with the investigations. Mueller has also spoken with White House communications director Hope Hicks and former senior adviser Steve Bannon.
In November, White House lawyer Ty Cobb said the Office of Government Ethics and a tax firm are working on a mechanism for Trump to contribute to staffers' legal bills that would meet regulatory and ethical standards.
While there is no law barring a president from giving gifts to those who report to him, Trump's case raises unique questions about whether his contributions could influence the testimony of staffers, Walter Shaub, former head of the Office of Government Ethics who has criticized the president over other conflicts of interest, said at the time.
Cobb said the White House was aware of the ethical questions and has been taking steps to address them.
"The president has assumed responsibility for his own legal fees and while he isn't involved directly in the creation of a mechanism to take care of staffers, it is important to him that they be taken care of and whatever approach is agreed upon by OGE and relevant tax authorities be bulletproof," said Cobb.
— With assistance by Bill Allison, Shannon Pettypiece, and David Voreacos
Before it's here, it's on the Bloomberg Terminal.
LEARN MORE