Ramaphosa Walks Tightrope in South African Cabinet Overhaul
By , , and
New president drops most of Zuma's ineffectual ministers

ANC politics forced Ramaphosa to make compromise appointments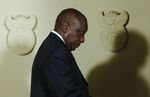 South African President Cyril Ramaphosa treaded a fine line between his ruling party's rival factions when he named steady hands to key cabinet posts and purged some of his predecessor Jacob Zuma's most ineffectual appointees.
While keeping a handful of Zuma loyalists in largely minor positions, Ramaphosa brought back as finance minister Nhlanhla Nene, who Zuma replaced in late 2015 in a decision that caused chaos in the markets. Pravin Gordhan, who won over investors during two stints in the same job before running afoul of Zuma, will oversee the six of the biggest state companies that are mostly financially strapped and mired in graft allegations.
Yet Ramaphosa's tenuous hold over the African National Congress constrained his ability to appoint a cabinet entirely of his choosing. He won control of the party in December with just 52 percent of the vote and became the nation's president less than two months later after the ANC forced Zuma to resign.
"The appointment of Mr. Gordhan and Mr. Nene will be well received by financial markets and rating agencies, as will the significant clean-out of ministers with clouds of corruption and mismanagement and sheer incompetence hanging over them," said Gary van Staden, an analyst at NKC African Economics in Paarl, outside Cape Town. "There are disappointments and frustrations but to expect much more than Mr. Ramaphosa delivered as unrealistic."
Deputy President

One key compromise is his new deputy president, David Mabuza, who calls himself "the cat" because of his political survival skills. The former premier of the eastern Mpumalanga province, Mabuza faces accusations of rigging state tenders and silencing opponents -- allegations he's denied. He emerged as an ANC power broker by signing up tens of thousands of new members in Mpumalanga and helped Ramaphosa win control of the ANC.
Zuma Loyalists
Other Zuma loyalists retained include Bathabile Dlamini, whose tenure as social development minister was marred by a scandal over the payment of welfare grants and is moving to the presidency as minister for women's affairs. Nomvula Mokonyane, the new communications minister, previously oversaw the water and sanitation portfolio and was accused by opposition parties of mismanaging her department's budget to the point of bankruptcy.
Malusi Gigaba, who Nene replaced as finance chief, was named home affairs minister despite a finding by the High Court that he had lied under oath during a previous stint in the post. 
"While the new president has made inevitable compromises by retaining some Zuma loyalists, the most vital positions in the new cabinet are occupied by competent officials," Ben Payton, head of Africa Research at Verisk Maplecroft, a Bath, England-based risk-advisory company, said by email. "The reshuffle was the best news investors could have hoped for. Mabuza's prospects of one day replacing Ramaphosa are both distant and highly uncertain."
Balancing Act
Those axed include ministers linked to members of the Gupta family who are in business with Zuma's son and have been accused of looting billions of rand for state coffers -- known in South Africa as "state capture." They include Mosebenzi Zwane as mineral resources minister, David van Rooyen as cooperative governance minister and Faith Muthambi as public service minister.
"This cabinet is a very carefully organized balancing act by Ramaphosa," said Prince Mashele, executive director at the Center for Politics and Research in Pretoria. "It won't make the ground shake in terms of getting government going and doing the right thing."
Ramaphosa told reporters on Tuesday the cabinet is "transitional." He may have an opportunity to remove more Zuma supporters when the government finishes a study on whether to trim the size of the cabinet, now with 35 ministers.
'Mixed Feelings'
Nene, in a phone interview, said he had "mixed feelings" about his reappointment as finance minister. Since Zuma fired him, he has taken up a position on the board of fund manager Allan Gray, become an adviser to Thebe Investment and served as temporary head of the University of Witwatersrand's Business School.
"I was getting comfortable where I was," he said. "I was hoping now I would start making my mark there. It's almost like whoa, I'm on a particular path, but when you are called upon to serve the nation, it's a bigger call."
While business groups welcomed the changes and said they would go a long way to restoring investor confidence, there was little market reaction to the cabinet appointments, with the rand little changed against the dollar on Tuesday.
"This is a long-awaited and crucial step towards addressing the legitimate misgivings regarding the previous administration," said Cas Coovadia, the managing director of the Banking Association of South Africa. "While we welcome these changes for the most part, we remain justifiably concerned about the retention of compromised individuals still under the cloud of state capture and maladministration."
Before it's here, it's on the Bloomberg Terminal.
LEARN MORE