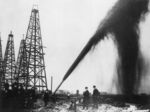 One of the more surprising things in the oil and gas sector these days is that Pioneer Natural Resources Co. is announcing stock buybacks while Exxon Mobil Corp. isn't.
This is a flipped script. Exxon used to seem like it was on a mission to take itself private. Pioneer, like most exploration and production companies, was more accustomed to asking for capital rather than giving it back.
To be clear, Pioneer's buyback program is just to offset dilution from paying employees with stock -- something Exxon continues to do -- rather than a true return of capital. Still, it signals a shift for Pioneer, which also recently raised its dividend, part of a wider move by E&P firms to pay out more cash:
Of the three groups in that chart, the refiners are actually the leaders. Their anticipated payouts in 2018 amount to a yield of 7 percent on their collective market cap, versus 4 percent for the integrated oil majors and, even with the current spate of generosity, just 3 percent for the E&P sector.
This is another remarkable turn of events. Refining's famously vicious cycles and poor economics made paying dividends (let alone doing buybacks) a precarious practice. Today, with U.S. refined-product exports booming, energy costs (read: natural gas) low, and captive master limited partnerships sometimes adding a cheap-capital kicker, things are very different.
Regarding the E&P industry's newfound generosity, the jury is still out on whether this represents a lasting change. Part of the reason for this is that while investors have put pressure on management teams to rein in their excesses (and realign pay incentives) over the past year, it isn't clear that signs of change are causing investors to reappraise the sector.
The story here is complicated on several fronts. First, just how disconnected are E&P stocks from oil prices anyway? A lot of it depends on your time horizon. Here's the same chart going back five years rather than one year:
The rolling 90-day correlation coefficient between the sector ETF and crude oil prices is lower than it was a year ago, but hardly insignificant at a positive 0.63.
Muddying things further, it is clear that some E&P companies announcing moves to prioritize returning capital have reaped a reward. Anadarko Petroleum Corp. offers a good example of this:
Yet the reason this worked so well for Anadarko could be because it helped draw a line under a series of missteps and a mini-major model that appears to have fallen out of favor with investors. The same could actually be said for Pioneer, which bombed after weak second-quarter results last year and has been rehabilitating itself, partly by raising its dividend and changing executive pay plans.
In contrast, take a look at Diamondback Energy Inc. and EOG Resources Inc. The former just initiated a dividend, while the latter, which reports results Tuesday evening, is being watched to see if it raises its (minimal) dividend or launches a buyback. Here's how those two stocks have done:
As I wrote here, Diamondback can afford its minimal dividend, and may thereby attract a new class of shareholder, but no one's really buying the stock for that reason. Rather, like EOG, the company just has an attractive track record of raising production and cutting costs consistently. Hence, EOG may choose to give a little more back on Tuesday evening -- free cash flow is forecast to be $1.4 billion this year -- but it isn't likely to be a game-changer either way.
Indeed, those investors wanting a steady yield are, as that first chart showed, still better off targeting either refiners or those dividends from the integrated majors. For E&P stocks, the virtue-signaling of payouts is helpful, but only in so far as they advertise the well-oiled machine behind them.
Before it's here, it's on the Bloomberg Terminal.
LEARN MORE