politics
No Candidate Has Much Chance of Fixing Italy's Problems
By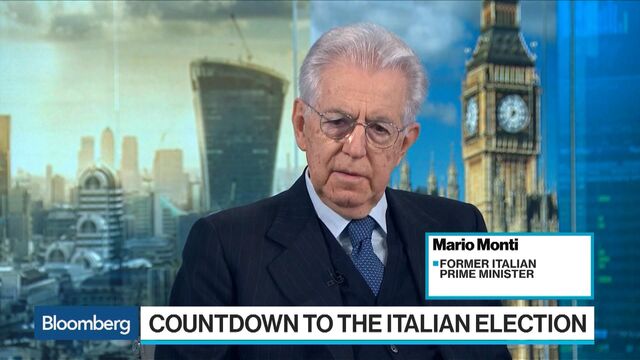 Want to receive this post in your inbox every morning? Sign up for the Balance of Power newsletter, and follow Bloomberg Politics on Twitter and Facebook for more.
Italy has more or less given up on the idea of ditching the euro, but Sunday's elections still cast a big shadow over the common currency.
A feeble economic recovery has done little to persuade voters to give center-left Prime Minister Paolo Gentiloni another chance. His Democratic Party had about 20 percent support before a polling blackout began on Feb. 17 – nearly half its tally in 2014 European Parliamentary elections when it was led by former Prime Minister Matteo Renzi.
Renzi was the great hope of the reformers, but blew it with an ill-judged referendum on changing the constitution in 2016. Now voters are looking to the populist Five Star Movement or a center-right coalition led by Silvio Berlusconi, a four-time premier who continues to campaign at 81.
With Italy's public debt more than 130 percent of annual economic output, either would pose a threat to budget stability as the European Central Bank prepares to wind down its bond-buying program.
As John Follain reports, a likely hung parliament could still see Gentiloni reappointed. For investors, he could at least be counted on to do no harm. But Italy needs a lot more than that.

Global Headlines
Russia probe latest | White House communications director Hope Hicks is scheduled to be interviewed privately today by the House Intelligence Committee as part of its probe of Russian meddling in the U.S. election. The panel's top Democrat, Adam Schiff, said questioning could focus on what role Hicks played in drafting an initial statement — which later proved to be false — about Donald Trump Jr.'s June 9, 2016 meeting with Russians at Trump Tower.
Testing the waters | Donald Trump has talked a lot about school shootings since the Florida massacre — including saying he'd have rushed in to take the perpetrator out — but so far he isn't putting his weight behind a legislative response. The president and his advisers have been consulting Republican lawmakers on what might win support from their colleagues. Forceful backing from Trump could go a long way toward uniting the fractured party that controls Congress.
​​​China dilemma | When is an outside investment unwelcome? Chinese billionaire Li Shunfu will find out when he meets with Chancellery officials in Berlin today to discuss his accumulation of a near 10 percent stake in Mercedes parent Daimler AG. As Birgit Jennen and Rainer Buergin report, Li's visit comes as Chancellor Angela Merkel and other EU leaders grow increasingly wary of China's motives in buying up European assets.
Saudi Arabian overhaul | The kingdom replaced several top military commanders, including the chief of staff and the heads of the ground and air forces, in the latest overhaul of traditional power centers in the oil-rich kingdom. No reason was given for the changes, which were announced in late-night decrees and come as the Saudi-led campaign to regain control of Yemen from rebel fighters with ties to Iran drags into a fourth year.
Ramaphosa makes his mark | South Africa's new leader, Cyril Ramaphosa, signaled a break with the past by appointing two former finance ministers. Both were fired by his scandal-ridden predecessor, Jacob Zuma because they opposed the influence of the former president's friends, the Gupta family. Ramaphosa named other steady hands to key posts yesterday and purged some of Zuma's most ineffectual appointees.
And finally ... Cities around the globe are going green – more than 100 from Addis Ababa to Auckland use greater than 70 percent renewables in their energy mix, according to research by CDP, a charity that studies the implications of climate change for publicly traded companies. The places where populations are at their most dense and pollution is at its highest are doing their bit to battle rising global temperatures by turning to hydro, geothermal, solar and wind to keep the lights on.

— With assistance by Kathleen Hunter, and Karl Maier
Before it's here, it's on the Bloomberg Terminal.
LEARN MORE