New Zealand Opposition National Party Elects New Leader
By
Simon Bridges wins five-way race to replace Bill English

Pledges 'strong alternative government heading into 2020'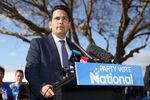 New Zealand's opposition National Party elected Simon Bridges as its new leader, hoping the ambitious former lawyer will be able to counter the country's increasingly popular prime minister, Jacinda Ardern.
Bridges beat four other contenders for the top job in a closed ballot among National members of parliament Tuesday in Wellington. Paula Bennett retained the deputy leadership, the party said in an emailed statement.
Bridges, 41, becomes the first person of Maori heritage to lead one of the nation's two main political parties. He represents a shift to a younger generation for National, which lost the Sept. 23 election to Ardern's Labour Party despite winning a larger share of the vote. Bridges replaces former prime minister Bill English, who announced his resignation two weeks ago. 
While National secured 44 percent of the vote to Labour's 37 percent, it was Ardern who won the support of the smaller New Zealand First Party to reach a majority and form a coalition government, ending nine years of National rule.
Bridges beat Amy Adams, Judith Collins, Mark Mitchell and former finance minister Steven Joyce to National's top job. He said that as leader of the opposition he would hold Ardern's government to account and present a strong alternative to win the next election in 2020.
Lofty Intentions
The current government "is big on lofty intentions, but struggling to turn that into real gains for New Zealanders," he said in a statement. "That's why we will continue to present an ambitious and strong alternative government heading into 2020."
A qualified lawyer, Bridges was elected to parliament in 2008 and promoted to cabinet in 2013, taking the labor and energy portfolios. He later held the economic development, communications and transport roles.
A National Party member since he was a teenager, Bridges met his wife while completing post-graduate studies at Oxford University.
Before it's here, it's on the Bloomberg Terminal.
LEARN MORE