Macy's First Sales Gain in Three Years Brings Ray of Hope
By
Department-store chain sees upswing continuing into 2018

Company had been battered by sluggish foot traffic at malls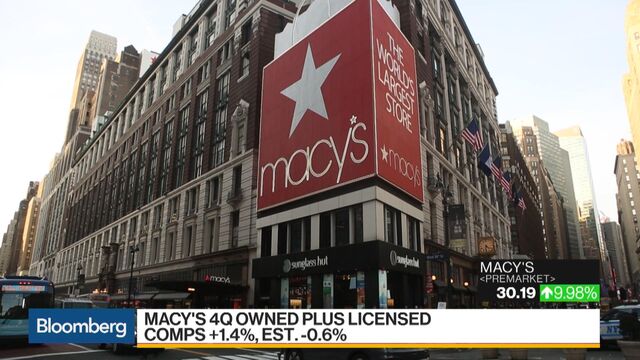 Macy's Inc. posted a surprise sales gain last quarter and predicted that the momentum would extend into 2018, renewing investors' optimism in the battered department-store chain.
Total comparable sales, a key benchmark, rose 1.4 percent in the fiscal fourth quarter, which includes the holiday season. Analysts had predicted a 0.6 percent drop.
Macy's lower-priced chain, Backstage, helped fuel the uptick -- as well as a double-digit increase in online sales. Fragrance, jewelry and coats were especially strong sellers, the retailer said.
"While these numbers do not suggest there is a miracle on 34th Street or, indeed, at any other Macy's location, they do provide a little cheer," Neil Saunders, managing director of GlobalData Retail, said in a note.
The results mark an inflection point for the Cincinnati-based chain, which had suffered 11 straight quarters of comparable-sales declines. Chief Executive Officer Jeff Gennette, who took the helm at Macy's last year, has vowed to bring shoppers back by opening more off-price locations, closing underperforming stores and reducing superfluous inventory.
The turnaround strategy now looks to be bearing fruit. The company expects comparable sales to range between the break-even point and 1 percent growth this year. It also plans to bring its Backstage concept to an additional 100 Macy's stores this year, including locations in upscale malls.
"We are encouraged to see a trend improvement in our brick-and-mortar business," Gennette said in a statement Tuesday.
The results helped send the shares up as much as 13 percent to $30.98 on Tuesday, though the stock pared gains amid a broader market downturn. The shares had climbed 9 percent this year through Monday's close.
Real Estate
Macy's also has been working to squeeze money from its sprawling real estate portfolio. This month, the retailer agreed to sell the top floors of its Chicago flagship location to a private real estate fund sponsored by Brookfield Asset Management, which will convert the space into offices. Macy's will receive $30 million for the floors, with the potential for more in the future, the company said on Tuesday.
After selling its men's store in San Francisco, Macy's is now exploring options to sell the stand-alone portion of its Union Square location -- about 240,000 square feet -- that was previously an I. Magnin store before it was integrated into the current layout.
Macy's also has teamed up with Brookfield to redevelop nine properties, out of a total of 50 under consideration. Macy's will either sell its interests in the individual assets to Brookfield or contribute them to individual joint ventures. Macy's estimates the sale value to be about $50 million. These projects include two furniture shops and existing mall locations, but the plans won't involved closing stores. No transactions will take place until 2019, Chief Financial Officer Karen Hoguet said on a conference call.
Mall Malaise
Fourth-quarter net sales amounted to $8.67 billion, matching analysts' estimates. Excluding some items, profit was $2.82 a share in the period, which ended Feb. 3.
Falling foot traffic at malls and a broader slump in apparel has waylaid the department-store industry for years. Shares of Macy's plunged 30 percent in 2017 as investor pessimism deepened.
Even with the brighter outlook, it's too early to predict a comeback for Macy's, Saunders said.
"The latest boost to performance affords Macy's more space and time to enact its plans," he said. "Hopefully, it will also give management the confidence to be bolder and more ambitious."
Quotes from this Article
Before it's here, it's on the Bloomberg Terminal.
LEARN MORE