business
JPMorgan Expects New Profit Record With Help From Trump, the Fed
By
Tax overhaul seen increasing ROTCE up to 3 percentage points

Bank says higher rates may fuel $7 billion pretax profit boost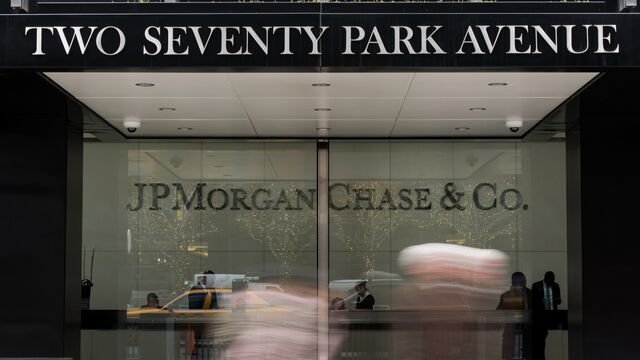 JPMorgan Chase & Co. is the most profitable bank in U.S. history. It expects to keep that title with help from the Fed and Donald Trump.
Higher U.S. interest rates engineered by the Federal Reserve and lower corporate taxes spearheaded by the Trump administration translate into about $7 billion more in pretax profit in coming years, JPMorgan said Tuesday in a presentation. Annual earnings may jump by a third from last year's high point, based on the lender's forecasts.
The gains give Chief Executive Officer Jamie Dimon room to plow money into technology investments, 400 new branches and a massive new corporate headquarters on Park Avenue. It also bolsters Dimon's years-long contention that the bank could accelerate profits once it got more help from monetary policy and politicians.
"Management continues to play the long game and build even bigger competitive moats around each of its businesses," Glenn Schorr, an Evercore Inc. bank analyst, wrote in a note to investors. The firm is making "investments that some smaller and/or less profitable peers can't fully do."
The bank's two sources of revenue -- net interest income and non-interest fees -- may both jump to about $55 billion in 2018, the company said. JPMorgan boosted its outlook for medium-term pretax income to as much as $47 billion from about $40 billion in 2017, and said the U.S. tax overhaul will boost return on tangible common equity up to 3 percentage points.
The more optimistic outlook "appears reasonably consistent with our forecast and entirely consistent with a franchise focused on investment and well positioned for profitable growth," Credit Suisse Group AG analysts led by Susan Roth Katzke said in a note.
The bank's forecasts equate to annual net income of $33 billion to $36 billion, according to Jefferies LLC analyst Ken Usdin. That's up significantly from the $27 billion the bank produced over the 12 months ended in September.
The shares fell 0.2 percent to $118.50 at 12:43 p.m. in New York.
Along with rising interest rates, JPMorgan expects a large windfall from the Republican tax overhaul passed last year. While the bank said last month it would boost wages for some workers and expand branches in response to the tax cuts, much of the benefit will fall to shareholders through higher profits.
The changes appear to benefit the asset-management division the most, with the bank forecasting return on equity in that business of about 35 percent, up from 25 percent. Consumer banking ROE will jump to more than 25 percent from about 20 percent, according to the presentation.
Favorable Trends
More intense competition will mean some of the tax benefit will flow to customers as well, the bank said.
"While relatively strong, we view its medium-term targets as generally in-line with expectations," Barclays Plc analysts led by Jason Goldberg wrote in a note to investors.
Non-interest expenses will rise to less than $62 billion in 2018 from $58.5 billion this year as the company increases spending on investments such as technology, which will get about $1.4 billion more, according to the forecast. The figure compared with the $61 billion projected by analysts at Credit Suisse.
— With assistance by Jennifer Surane, Katherine Chiglinsky, and Felice Maranz
Before it's here, it's on the Bloomberg Terminal.
LEARN MORE