politics
Italy's Post-Vote Gridlock May Be Perfect for Peacemaker Premier
By
Prime Minister Gentiloni is executive's pick to stay on

Gentiloni seen as better than Renzi at coalition-building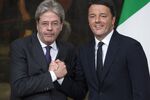 Prime Minister Paolo Gentiloni waited some 10 minutes in a wet Roman piazza on Saturday for his party chief Matteo Renzi to turn up for a symbolic public embrace.
But in the broader battle for political supremacy within Italy's governing party, it's Gentiloni who has seized the initiative from his one-time sponsor.
The 63-year-old's authority has grown steadily since he took over as premier in December 2016 after Renzi was forced to resign following a referendum defeat. He's won plaudits for navigating a banking crisis and keeping the fragile economic recovery alive, while Renzi, 43, has been struggling to hold the Democratic Party together.
"Gentiloni was supposed to just keep the seat warm," said Oreste Massari, professor of political science at the Sapienza University in Rome. "But Gentiloni did so well that now he's much stronger, and Renzi is weaker."
Their encounter at an anti-fascist demonstration in the capital just a week before the March 4 election was another example of the diplomatic smarts that has investors and executives hoping that Gentiloni can snag an unlikely second term.
Why Italy's March 4 Election Is One Worth Watching: QuickTake
While surveys show Gentiloni is the most popular politician in Italy, support for his party had slumped to around 23 percent by the time a polling blackout kicked in on Feb. 17. And yet the former foreign minister may find his particular qualities are in demand if polls are correct in projecting a hung parliament.
'The Roman Establishment'
The anti-establishment Five Star Movement was projected to be the single biggest party before the blackout, while Silvio Berlusconi's center-right coalition is likely to be the biggest bloc. But no one is on track for a working majority and after an at times bitter campaign, Gentiloni could be the figure who provokes the fewest objections.
"Gentiloni is a more conciliatory figure than Renzi, and that's what you need for a coalition government," said Sergio Fabbrini, director of the school of government at Luiss University in Rome. "Plus Gentiloni is part of the Roman establishment, while Renzi has always been an outsider, even as premier he didn't go to the ruling class's dinner-parties in the capital."
Earlier in the campaign, Renzi repeatedly insisted that as PD leader, he was the party's candidate for prime minister. But he's backtracked in recent weeks, leaving the door open for Gentiloni. Renzi now says that what matters is that it's someone from their party.
He was asked directly if he'll step aside for Gentiloni in an interview published by La Stampa on Monday and he sidestepped the question.
"This electoral law doesn't envisage a candidate for premier," Renzi told the newspaper. He said that President Sergio Mattarella would decide who to appoint "on the basis of post-electoral dynamics."
Gentiloni's Fans
Gentiloni is dodging the issue too. "I'm not going to start doing PD astrology a week before the vote," he told La Repubblica on Sunday. Relations between him and Renzi are "better than good," he said.
Yet the Gentiloni endorsements keep rolling in. Former President Giorgio Napolitano and ex-premier Romano Prodi are among center-left figures who want Gentiloni re-appointed. French President Emmanuel Macron says Europe has been "very lucky" to have him. Berlusconi told RTL radio on Monday he's "a kind and moderate person" whereas Renzi can't be trusted.
Then there's the PD rank and file. Renzi has seen dissidents quit the party amid dismay at the way he has frittered away capital since winning more than 40 percent of the vote in European elections in 2014. Eventually, the political logic may be difficult to resist.
"People who wouldn't vote for the PD because they don't like Renzi will vote PD anyway," Massari said. "Because they like Gentiloni."
Before it's here, it's on the Bloomberg Terminal.
LEARN MORE