technology
Here's What The Street Is Saying About a Sky Bidding War
By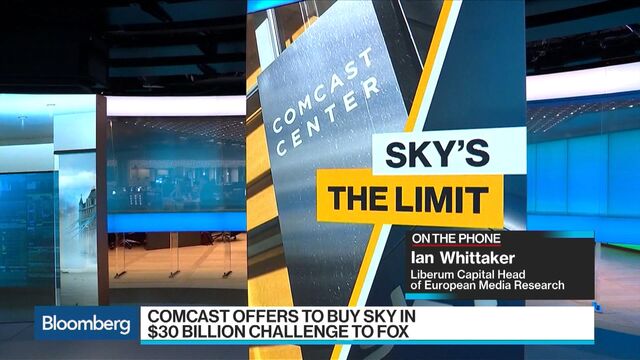 Just three months ago, Sky Plc was trading at 900 pence a share as concerns mounted over whether U.K. regulators would approve its planned deal with 21st Century Fox Inc. Fast forward to Tuesday, and the British broadcaster surged as much as 23 percent to a high of 1,355 pence after an approach by Comcast Corp.
 "Let the battle commence," said Mirabaud's Neil Campling, seeing the start of a protracted bidding war. Comcast's offer, for 1,250 pence a share plus dividends, topped Fox's bid for the 61 percent stake it doesn't already own in Sky by about 16 percent. Still, Liberum's Ian Whittaker said that Fox and Disney -- who are set to acquire Sky assets as part of a purchase of Fox assets -- probably won't want to get into a bidding war.


Olivetree  
"Comcast's approach should be very clean, the regulatory backdrop for them should be straightforward, and the 50% acceptance shows that they are happy to own the asset alongside Fox/Disney. Whether Fox/Disney are happy to do the same remains to be seen. "
The fact that Comcast has conditioned its approach on 50% acceptance indicates that they don't expect Fox to tender its Sky shares, "suggesting that Disney really want the asset."
The timing of Comcast's approach is interesting as it "allows them to start their regulatory filings, which could well conclude at a similar point to a Fox transaction being put in front of Sky shareholders."
Mirabaud, Neil Campling
"There is no way we can see that Fox will walk away given how advanced the regulatory clearance process is. This bid marks a floor not an end to this particular saga. Let the battle commence."
Sky is a good strategic fit for Comcast as it allows diversification away from the U.S.
Liberum, Ian Whittaker
(Upgrades Sky to buy with new PT of 1,250p)
"We expect this deal to go through as we do not think Fox will want to get into a bidding war, especially given the complications surrounding Sky News." The "Comcast bid may be more attractive even if Fox does come back with a raised bid as it would come with much lower regulatory risk."
"If Fox did want to raise its bid, it would presumably need approval from Disney to do this or, if Disney refused, have to fund the extra price by itself, which means it is then looking at a loss if Disney did end up acquiring 100% of Sky."
Jefferies, Jerry Delis
(Buy, PT 1,160p)
Comcast buying Sky would be a "much less controversial outcome for the U.K. CMA/Government. Given Sky's strategic importance to Fox and Disney, a counter offer well above GBP12.50 now becomes very likely."
Fox is more likely to raise its offer well above 1,250p, as this gives unaffiliated Sky holders an incentive to hold out and see if regulator approval of the Fox/Sky deal is forthcoming.
The issue for Fox in cashing in its Sky stake is that it could sell out of Sky only to find that the Disney-Fox transaction was blocked. This would leave Fox with "a subscale collection of mainly U.S. assets with India as the only material international exposure."
Investec, Steve Liechti
(Hold rating, PT under review)
This "looks like a hostile approach with no agreements. The key question is whether there is any further response from Disney and 21CF – our impression is that Disney does like the Sky assets in Europe, though it might decide it has enough to do in the U.S. versus a contested European bid process."
— With assistance by Beth Mellor, James Cone, and Lisa Pham
Before it's here, it's on the Bloomberg Terminal.
LEARN MORE