politics
Goldman to D.C. to Goldman: Dina Powell Joins the There-and-Back Club
By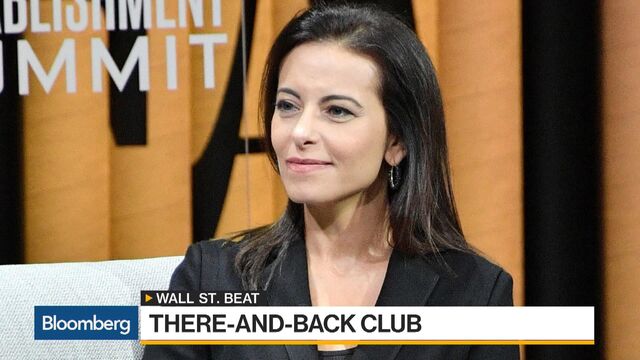 When bankers walk out of Goldman Sachs Group Inc. to take influential jobs in politics and policy, which they've been doing for decades, they sometimes leave with a pledge to keep a polite distance from their old firm. That doesn't mean they don't go home again.
By returning to Goldman Sachs less than a year and a half after she left as a partner for a role in the Trump administration, Dina Powell is joining an elite club of alumni who made the round trip.
Read more: Dina Powell returns to Goldman
Stephen Friedman, who was co-chairman of the Wall Street firm, left in 1994 and later led President George W. Bush's National Economic Council. In 2005, he rejoined as a member of the firm's board.
Massimo Tononi left Goldman Sachs in 2006 to join Italy's finance ministry as undersecretary. The firm rehired him two years later.
Robert Zoellick managed to go back and forth twice. He was an adviser there before he became U.S. trade representative in 2001, then left government for the firm five years later. In 2007, the year Goldman Sachs hired Powell, Zoellick went to run the World Bank. He returned in 2013 to oversee the firm's international advisers.
Edward C. Forst was an executive at the firm making $44 million before he left in 2008 for Harvard University. He was tapped later that year to work with former bank boss Hank Paulson on the Treasury's bank bailouts. By the end of 2009, he was back at Goldman Sachs as a senior strategy officer.
Sometimes the bankers don't go far. Last year, Goldman Sachs money manager Jim Donovan was helping the Treasury Department staff up and waiting to be confirmed as deputy secretary. But he pulled out of the nomination in May, citing personal reasons. (His almost-boss, Steven Mnuchin, was once an executive at the bank.) A person who picked up Donovan's phone at Goldman Sachs declined to say if he ever officially left.
Robert Rubin, who ran the firm with Friedman, became Treasury secretary under President Bill Clinton. Afterward he switched things up -- he joined Citigroup Inc.
— With assistance by Dakin Campbell
Before it's here, it's on the Bloomberg Terminal.
LEARN MORE