technology
Broadcom's Qualcomm Bid Needs Security Review, Lawmaker Says
By and
No. 2 Senate Republican urges look by national security panel

Broadcom plans to shift headquarters from Singapore to U.S.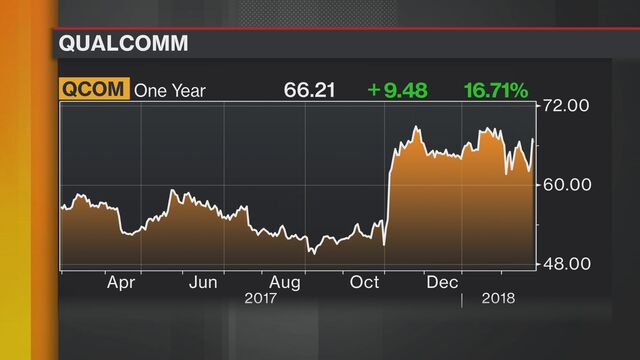 Broadcom Ltd.'s hostile bid for Qualcomm Inc. should be reviewed to determine whether it poses risks to U.S. national security, the No. 2 Republican in the Senate said, a process that would create an additional regulatory hurdle.
Senator John Cornyn of Texas said Broadcom's effort to gain control of Qualcomm's board at a March 6 shareholders meeting should be examined by the Committee on Foreign Investment in the U.S., according to a letter obtained by Bloomberg that Cornyn wrote Monday to the Treasury Department, which chairs the panel.
"It is my view that failure by CFIUS to review this hostile takeover would potentially encourage other foreign parties to evade CFIUS review by taking control of the boards of sensitive U.S. businesses through proxy fights," Cornyn wrote.
The CFIUS panel reviews foreign acquisitions of U.S. businesses. It can impose changes to transactions to protect American security or, in rare instances, recommend that the president block a takeover. It generally examines acquisitions of companies rather than board nominations. Reuters reported Monday that CFIUS has started looking at the Qualcomm deal.
Related: Broadcom, Qualcomm Trade Shots Over Commitment to Make Deal
Broadcom said in a statement that CFIUS only plays a role when a foreign acquirer gains control of a U.S. business and the company expects to receive the approvals it needs to reincorporate from Singapore to the U.S. by May when shareholders will vote on the proposal. Chief Executive Officer Hock Tan announced the company's reincorporation plan last year at a meeting with President Donald Trump in the Oval Office. 
CFIUS pays particular attention to acquisitions of American technology like semiconductors and networking equipment. Trump last year blocked a Chinese-backed acquisition of Lattice Semiconductor Corp. on national security grounds. In his letter, Cornyn cited Qualcomm as "the only U.S. company capable of leading" development of the next generation of cellular technology known as 5G.
Tan, who was born in Malaysia, became a U.S. citizen after moving here to study. He earned an MBA from Harvard Business School before working in finance at PepsiCo Inc. and General Motors Co. He was tapped by private-equity firms to run Avago Technologies Ltd., once a Hewlett-Packard division. Tan went on a buying spree at Avago, culminating with the acquisition of Broadcom in 2016.
Qualcomm declined to comment on Cornyn's letter. Qualcomm has rejected Broadcom's approach as undervaluing the company. It has also cited concerns about the length of time such a transaction might take to get through regulatory scrutiny around the world.
The chipmaker has told shareholders that the approval process for the deal might take as long as 18 months and brings too much uncertainty. Broadcom said it has already spoken to regulators and is confident it could get all the signoffs required in less than a year.
(
Updates with CEO's U.S. citizenship in the seventh paragraph.
)
Before it's here, it's on the Bloomberg Terminal.
LEARN MORE