politics
Berlusconi Says He Is 'Available' to Be Prime Minister Next Year
By
Public-office ban due to tax fraud conviction expires in 2019

General elections on Sunday may lead to hung parliament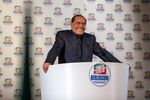 Former premier Silvio Berlusconi said he may seek the Italian government's top job for a fifth time in a quarter-century when a ban on his holding public office expires next year.
"I am available," the 81-year-old tycoon-turned-politician said on Tuesday in a Facebook session co-organized by Italian newswire Ansa.
He was responding to a question on whether he would agree to lead the government should the March 4 general elections prove inconclusive and result in a stalemate, leading to a new vote in one year's time. That is when the ban on his holding public office due to a 2013 tax fraud conviction expires.
Earlier in the day, Berlusconi reiterated that European Parliament President Antonio Tajani, also from his Forza Italia party, is his favorite candidate for premiership in the current race. In an interview with German newspaper Die Welt published on Tuesday, Tajani said he would like to keep his current job.
Before it's here, it's on the Bloomberg Terminal.
LEARN MORE