Baidu's Netflix-Style App Marks Bumper Year for China Tech IPOs
Alex Barinka and David Ramli
IQiyi is working with Goldman Sachs, Credit Suisse, BofA

Chinese IPOs expected for 2018 include Xiaomi, Tencent Music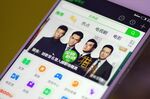 Baidu Inc.'s Netflix-style video streaming service has filed for a U.S. initial public offering, revealing tremendous growth but also the enormous losses that came from competing against larger Chinese internet rivals Alibaba and Tencent.
IQiyi Inc.'s prospectus put forward an offering size of $1.5 billion, a placeholder amount that's likely to change as the Beijing-based company gauges investors' reception to its debut. Its float heralds a spate of highly anticipated debuts this year from the likes of Xiaomi Corp. and Tencent Holdings Ltd.'s music arm. IQiyi was said to be aiming for a public market valuation of as much as $10 billion.
Search giant Baidu owns about 70 percent of IQiyi, which as China's most-viewed video service outdoes Alibaba Group Holding Ltd.'s Youku and Tencent Video. But it's incurring rising costs as it competes to buy and make movies and shows to satisfy the voracious streaming appetite of Chinese consumers. Net losses swelled 22 percent to 3.74 billion yuan ($591 million) in 2017, and the company warned of uncertainty around the bottom line.
Revenues however are growing quickly as increasingly affluent users warm to subscription models with monthly fees, instead of platforms that stream free content that earn their money from advertisers. Sales at the company grew 55 percent to 17.4 billion yuan in 2017. The growing number of paying subscribers -- 50.8 million as of 2017 -- was a positive sign but convincing more users to pay for content will require extensive marketing and heavy discounting.
"It's a highly competitive sector and the celebrity and content production fees continue to rise," said Shawn Yang, executive director at consultancy Blue Lotus. "Tencent's management has said they don't expect this sector to reach a break-even point in the short term and we think that is true."
IQiyi's coming-out party follows a blockbuster year for Chinese companies listing in the U.S. Twenty-one businesses went public on American exchanges in 2017 to raise a combined $3.9 billion, according to data compiled by Bloomberg. This year, a number of Chinese tech companies hungry for expansion capital, including Tencent Music and Xiaomi, are said to be exploring first-time share sales in Hong Kong or elsewhere.
Spinning off iQiyi is a positive move for Baidu, which has sold or divested peripheral businesses such as food delivery service Baidu Waimai to focus on core products driven by artificial intelligence, said MCM Partners senior analyst Ryan Roberts.
"iQiyi is another step along that streamlining process and for Baidu's investors it's a positive thing for the stock," he said. "I don't think this is going to be the last fundraiser for iQiyi because they're going to need to buy more content, because in this business content is king."
Goldman Sachs Group Inc., Credit Suisse Group AG and Bank of America Corp. are leading the IPO. The company has applied to list its American depository shares on the Nasdaq Global Select Market under the ticker IQ.
Quotes from this Article
Before it's here, it's on the Bloomberg Terminal.
LEARN MORE