politics
Trump Ducks Meeting But Democratic AGs Still Talk Up Gun Control
By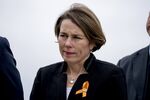 Gun control is a priority for Democratic state attorneys general meeting in Washington less than two weeks after a deadly mass shooting at a Florida high school, but they didn't get an invitation to share their views with President Donald Trump.
"Unfortunately, he wouldn't meet with us and I think that's a real shame," Massachusetts Attorney General Maura Healey said Friday at a press conference with her Democratic colleagues.
Healey, who has been sued by the National Rifle Association over gun control measures her state passed in response to earlier mass shootings, was in town for an annual meeting of the National Association of Attorneys General. She joined a group of Democrats who split off from the bipartisan conference to highlight what they said was the administration's failure to push for meaningful change after 17 students and adults were killed this month in Parkland, Florida. Afterward, Healey met with five students from the Florida school.
Trump has proposed improving background checks and banning bump stocks that make semiautomatic rifles mimic automatic fire. He said last week he'd meet with attorneys general and governors to discuss ways to keep schools safe, but rescinded a meeting scheduled for Monday and met instead last week with a small group of Republicans.
Maine Attorney General Janet Mills mocked Trump's idea of arming teachers as a distraction from what educators actually need.
"We need to talk about teacher-student ratios, not teacher-gun ratios," Mills said at a rooftop press conference overlooking the White House.
California Attorney General Xavier Becerra said his state and others have plenty of experience with improving public safety with common sense gun control measures, and that he'd be happy to share his findings with Trump.
"You don't have to invent the wheel, Mr. President," Becerra said. "There are a bunch of us who could tell you all the good ways that we could try to save lives."
(
Updates with comment from California AG in seventh paragraph. In an earlier version of this story, Janet Mills's title was corrected.
)
Before it's here, it's on the Bloomberg Terminal.
LEARN MORE