business
Shkreli's Hopes of Release May Be Dashed by Judge's Finding
By
Matsumoto rules Shkreli investors lost more than $10 million

Sentence will be based partly on the amount investors lost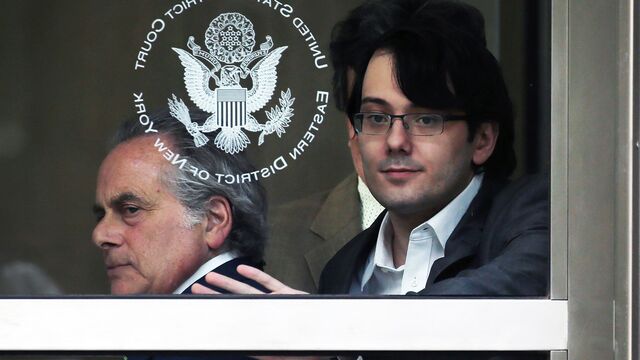 Martin Shkreli's hopes of avoiding more prison time for his fraud convictions took a hit as the federal judge who's going to sentence him ruled his crimes cost investors more than $10.4 million, rejecting Shkreli's claim he made them money.
When Shkreli was convicted in August, he proclaimed to be "delighted" with the verdict because he'd been "acquitted of the most important charges" and predicted he'd spend no time in prison. His lawyers said he shouldn't be imprisoned because he'd been cleared of "the money count." 
But U.S. District Judge Kiyo Matsumoto in Brooklyn, New York, flatly rejected those arguments Monday, finding that the former hedge fund manager turned pharmaceutical executive fraudulently induced investors in one of his funds to put up more than $6.3 million and also cost investors in another fund to lose more than $4 million by funneling their money into Retrophin Inc., a company he founded.
The judge's determination on losses is separate from how much Shkreli may have to pay his victims. Prosecutors say he should surrender $7.4 million and the sentence Matsumoto imposes will be based in part on the amount of investor losses.
Shkreli didn't manage his hedge fund "for the benefit of investors but instead used it to fund his own personal or unrelated professional debts and to support the development of Retrophin," Matsumoto said.
Prosecutors argued Shkreli cost his investors from $9 million to more than $20 million by lying and running his funds like Ponzi schemes. Shkreli was convicted of lying about his track record and illegal attempts to control Retrophin shares. He was cleared of charges that he looted Retrophin.
"We are disappointed by the ruling but still hopeful that the court will find it in her heart to impose a reasonably lenient sentence," Benjamin Brafman, Shkreli's lawyer said in a statement.
QuickTake Q&A on why Shkreli was on trial when investors didn't lose
Matsumoto said she wouldn't credit Shkreli for money his investors got back or their profits. One investor had testified she ended up with a $2.7 million profit from a $300,000 initial investment.
While Shkreli argued last week he should get "credit" for paying his hedge fund investors with stock from Retrophin, Matsumoto said he only did so after they became "suspicious."
"Mr. Shkreli will not benefit from his decisions to use Retrophin assets to repay defrauded investors in his hedge funds," she said.
Shkreli also used investors' money to pay for things like cab fares and Jay-Z concert tickets to maintain the image he was a successful hedge fund manager, according to prosecutors. Records showed at one point Shkreli had "negative 33 cents" in his bank account.
Matsumoto ordered Shkreli jailed in September after he issued a bounty on social media for a sample of former Secretary of State Hillary Clinton's hair. He is scheduled to be sentenced March 9.
The case is U.S. v. Shkreli, 15-cr-0637, U.S. District Court, Eastern District of New York (Brooklyn).
Before it's here, it's on the Bloomberg Terminal.
LEARN MORE