business
Remington Creditors Seek Quick Sale After Bankruptcy
By
Fund managers slated to take control are said to plan sale

Gun maker seeking to reorganize within 45 days of filing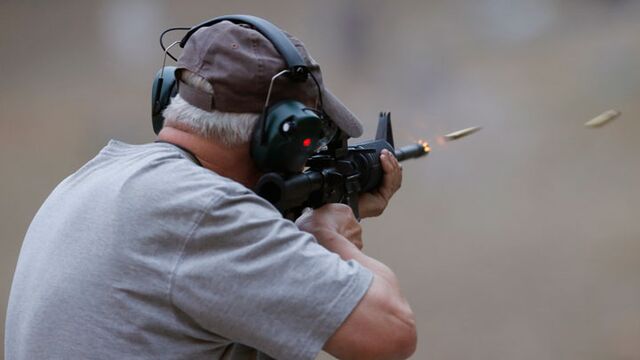 Creditors that are planning to seize control of the cash-strapped maker of Remington guns are already looking for an exit.
Lenders including Franklin Resources Inc. and JPMorgan Chase & Co.'s asset management arm will become owners of a reorganized Remington Outdoor Co. as part of a plan they reached this month with the company and its private equity owner, Cerberus Capital Management.
But the creditors will almost immediately be looking for a buyer for some or all of the gun manufacturer, according to people with knowledge of the plan, who asked not to be identified because the discussions are private. The group has already received some expressions of interest from potential corporate buyers, although no formal sales process has begun, one of the people said.
Remington and its creditors are planning a quick trip through bankruptcy court that would seek a judge's approval just 45 days after the Chapter 11 filing, which is expected to happen by March 7, according to documents posted on the company's website. That would mean the company's new overseers could be entertaining asset sales within a couple of months.
Representatives for Cerberus, Franklin, and JPMorgan declined to comment, while Madison, North Carolina-based Remington didn't immediately respond to a request for comment.
The 200-year-old gun maker, which sells weapons under Bushmaster, Marlin, Parker Gun, Dakota Arms brands, as well as Barnes Bullets ammunition, ran so low on cash that it missed a coupon payment owed on a $550 million term loan earlier this month. Under the restructuring agreement reached on Feb. 11, the creditors, which also include Lord Abbett & Co., will take over Remington's equity from Cerberus in exchange for cutting the firm's $950 million debt load, the people said.
First-lien lenders and others will receive the bulk of the ownership, 82.5 percent. The remainder will fall to holders of a $250 million third-lien note including Lord Abbett. The funds that hold the debt aren't typically long-term holders of equity positions.
It'll be up to the creditors-turned-owners to help finance the company initially. First-lien lenders led by Franklin -- including the firm's Franklin Templeton Investments arm -- and JPMorgan Asset Management will provide a $100 million loan to help fund the company during its bankruptcy, the people said.
But they'll also need to find new lenders to replace an existing revolving line of credit of about $200 million. The banks that are funding that loan now -- including Bank of America Corp. and Wells Fargo & Co. -- are in discussions to possibly finance the replacement line, but haven't made a decision, according to people with knowledge of the discussions.
A political backlash following this month's school massacre in Florida and a renewed push for restrictions on gun sales is prompting the incoming owners to cast a wider net than usual, one of the people said. The new owners are asking smaller banks and alternative lenders to submit bids for a new loan.
Bank lenders earlier this month permanently reduced to $193 million what had been a $225 million line of credit. In 2017, the loan size had been increased to about $265 million.
Bill Halldin, a Bank of America spokesman, and Trisha Schultz, a spokeswoman for Wells Fargo, declined to comment.
— With assistance by Eliza Ronalds-Hannon
Before it's here, it's on the Bloomberg Terminal.
LEARN MORE