politics
Lebanon's Hariri Set for Riyadh Return as Donor Meeting Nears
By
Beirut, Saudi ties took a hit following resignation last year

Decision comes ahead of April 6 donor conference in Paris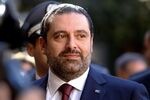 Lebanon's prime minister said he had accepted a Saudi invitation to visit the kingdom and would do so "as soon as possible," in an apparent effort to patch up ties with a vital economic benefactor months ahead of a donor conference.
Saad Hariri's decision followed talks with a Saudi delegation headed by royal court adviser Nizar Al Aloula. In a statement, Hariri said the meeting was "positive."
That's a stark turnaround from last November, when Hariri resigned his office while in Riyadh, sparking a major diplomatic row. The premier, a close Saudi ally, publicly cited the growing role of Iran and its proxy movement Hezbollah in Lebanese affairs for his decision to quit. But back home top officials, including the president, accused Saudi Arabia of compelling Hariri to step down -- and holding him "hostage" -- to further its regional tussle with the Islamic Republic.
Hariri traveled to Paris before returning to Lebanon, where he later rescinded his resignation.
Saudis Alarm Their Friends More Than Foes in Mideast Power Plays
The proposed new visit is the result of mediation by France as it gears up to host an April 6 summit to raise funds for rebuilding Lebanese infrastructure, said Sami Nader, head of the Beirut-based Levant Institute for Strategic Affairs. "It is in Lebanon's interest to maintain good ties with Saudi Arabia for the sake of its economy given that it's the major source of remittances," he said.
The kingdom, too, is keen to move on, Nader said. "Saudi Arabia cannot leave the scene empty for Iran to fill the gap and needs to counter balance Iran's increasing clout."
Iran has used Hezbollah to bolster allied government forces in both Syria and Iraq, and the movement also plays a pivotal balancing role in Lebanon's delicate sectarian power-sharing government.
Lebanon wants to raise $16 billion at the conference to revive an ailing economy weakened by political infighting and the impact of the war in neighboring Syria.
Hariri's resignation in November roiled Lebanese markets, raising its credit risk and sending bond yields soaring. Central Bank Governor Riad Salameh said reserves fell to about $41.5 billion from more than $43 billion at the end of October, following the resignation. But they rebounded a month later.
Before it's here, it's on the Bloomberg Terminal.
LEARN MORE