markets
Five Things You Need to Know to Start Your Day
Get caught up.
By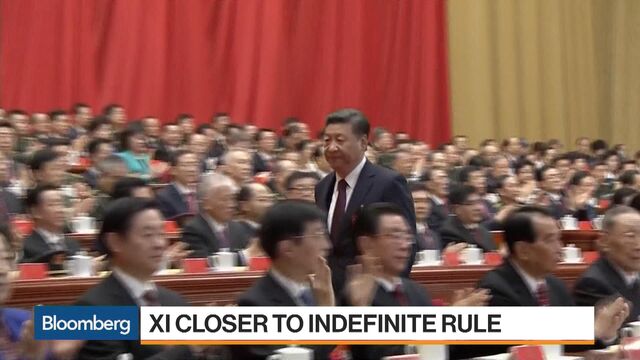 Want to receive this post in your inbox every morning? Sign up here
Investors consider the implications of Xi Jinping's decision to nix Chinese presidential term limits. Apple plans to release three new smartphones this year, and all eyes will be on new Federal Reserve Chairman Jay Powell's remarks to the U.S. Congress. Here are some of the things people in markets are talking about.
Implications of Xi's Move
Xi Jinping's decision to cast aside China's presidential term limits is stoking concern he also intends to shun international rules on trade and finance, even as he champions them on the world stage. The Communist Party's bid to repeal the constitutional prohibition enacted after the turbulent Mao Zedong era — allowing Xi to stay on indefinitely — is only the latest domestic standard discarded by the president. Since coming to power in 2012, he's jailed once-untouchable retirees of the country's top political body, declined to name a successor and created a series of party panels to take over government policy-making. Meanwhile, here's what it might mean for investors.
Apple's iPhone Plans
Apple Inc. is preparing to release a trio of new smartphones later this year: the largest iPhone ever, an upgraded handset the same size as the current iPhone X and a less expensive model with some of the flagship phone's key features. With the new lineup, Apple wants to appeal to the growing number of consumers who crave the multitasking attributes of so-called phablets while also catering to those looking for a more affordable version of the iPhone X, according to people familiar with the products.
Will Powell Run the U.S. Hot?
Federal Reserve Chairman Jerome Powell and his colleagues may be willing to accept inflation rising as high as 2.5 percent as they seek to extend the almost nine-year economic expansion. So say a number of veteran Fed watchers who argue that the central bank would tolerate a moderate rise in inflation above its 2 percent goal after years of falling below that objective. (Inflation currently is 1.7 percent.) Powell delivers his first testimony to Congress as Fed chief on Tuesday and Thursday.
A Shakeup for Banks in Japan
Japan's financial supervisor is laying the groundwork for a regulatory overhaul that could lead to a shakeup in the nation's $10 trillion banking industry. The Financial Services Agency is examining how to change the legal framework so that all providers of financial services are subject to the same rules — a move that would allow emerging companies such as technology startups to compete directly with traditional financial institutions. For banks, the revamp could end their monopoly on deposit-taking and lending as well as free them up to enter new businesses.
Coming Up…
The closing days of February seem to be evidencing some position squaring that's making the month look like slightly less of a horror story for equities. The MSCI Asia-Pacific index may avoid its steepest monthly slide since January 2016 and instead just offer the first monthly drop since December 2016. Highlights for Tuesday include a South Korean rate decision, Hong Kong trade data, German inflation figures, Euro-area economic confidence and the annual report from Norway's $1 trillion sovereign wealth fund. There's also a briefing from EU chief Brexit negotiator Michel Barnier at a European affairs ministers meeting in Brussels.
What we've been reading
This is what caught our eye over the last 24 hours.
— With assistance by Garfield Clinton Reynolds, David Tweed, Enda Curran, Mark Gurman, Debby Wu, Rich Miller, and Shelly Hagan
Before it's here, it's on the Bloomberg Terminal.
LEARN MORE