markets
Draghi Calls for Overhaul of Bank Emergency Liquidity Rules
By and
ECB president responds to question on Latvia's ABLV Bank

Says national competence on ELA is a remnant of the past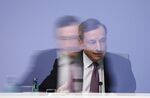 European Central Bank President Mario Draghi said rules governing emergency cash injections to troubled lenders ought to change, adding to signs that the abrupt failure of ABLV Bank last week may force regulators to contemplate overhauls in wider financial supervision.
Asked why the ECB didn't bloc the injection of Emergency Liquidity Assistance, or ELA, to ABLV just hours before it was declared as failing or likely to fail, Draghi said that the Frankfurt-based central bank can only object to such injections when they interfere with monetary policy objectives. 
"The ELA rules should be changed," he told lawmakers in Brussels on Monday, omitting any defense of the decision made by Latvian authorities. "I personally have argued several times toward a centralization of ELA."
Having gained broad attention during the Greek crisis, when up to 124 billion euros ($153 billion) was made available by the Bank of Greece to keep the country's lenders afloat, ELA is extended by national central banks to solve temporary liquidity problems for institutions which are otherwise solvent. This principle came under question on Friday, when the Latvian central bank tripled ELA credit to ABLV just as the ECB was preparing to seal the lender's fate.
Draghi said a decision to centralize ELA decisions would require unanimity among all 19 countries using the euro. 
"They have to decide that they would abandon this remnant of national sovereignty in monetary policy," he said. "Because that's what it is."
— With assistance by Catherine Bosley, and Maria Tadeo
Before it's here, it's on the Bloomberg Terminal.
LEARN MORE