Corbyn Backing for Customs Union Sets Up Showdown With May
By
Labour leader gets business backing for call for ties with EU

Prime minister faces prospect of being stuck between two sides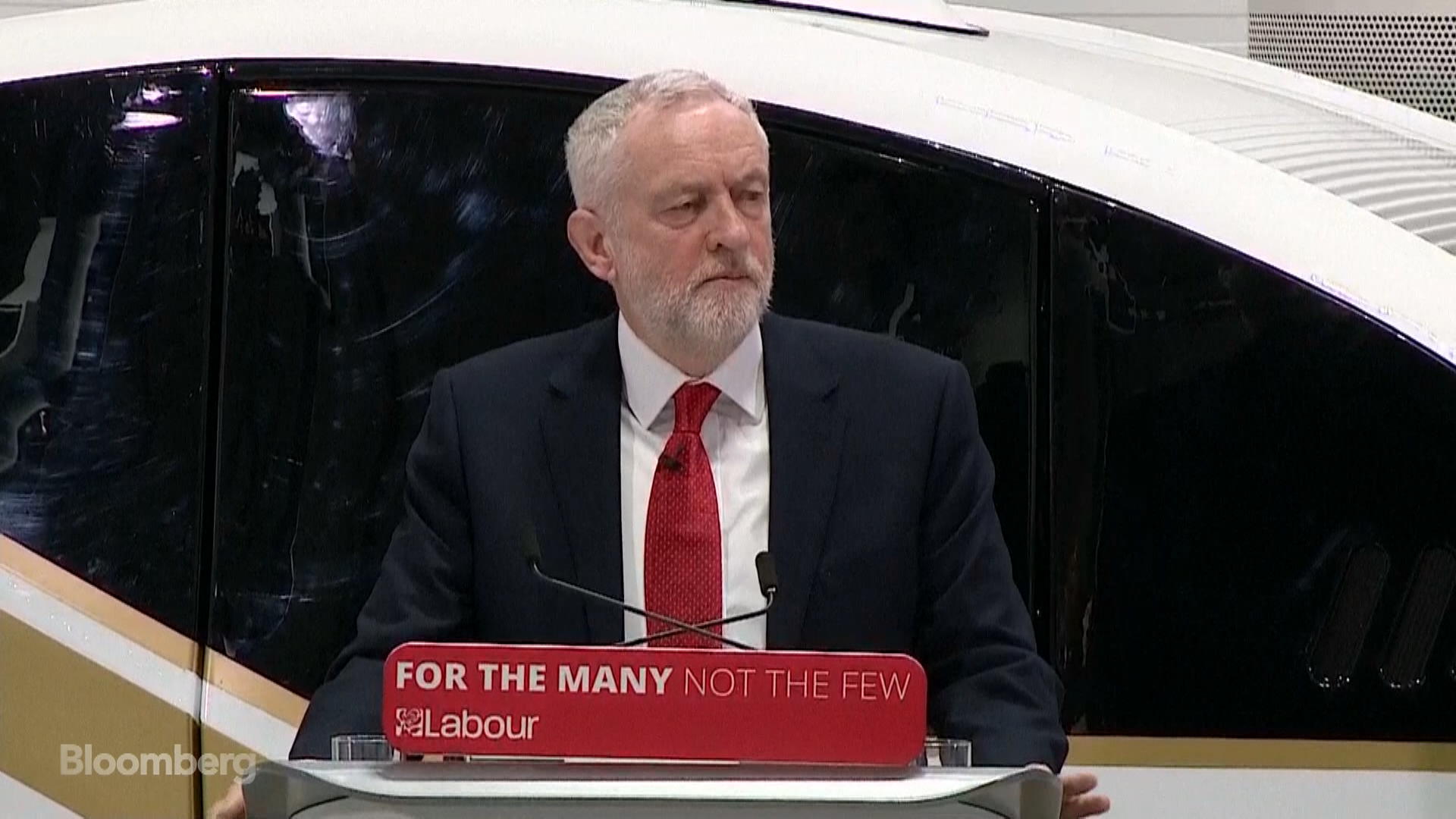 Follow @Brexit on Twitter, join our Facebook group and sign up to our Brexit Bulletin.
Jeremy Corbyn's decision to back a customs union between the U.K. and the European Union put the opposition on the side of most businesses -- and set up a Parliamentary showdown for Prime Minister Theresa May.
The announcement that Labour wants an agreement that would keep trade with the bloc tariff-free -- in exchange for restrictions on the U.K.'s own trade policy -- was welcomed by the Confederation of British Industry. It got an initial positive response in Brussels and is seen as going some way to solving the problem of how to avoid a hard border with Ireland.
But its immediate impact is that it sets up the possibility of a defeat for May in the House of Commons in one of her key pieces of Brexit legislation. If Labour now backs a proposed amendment to the Trade Bill, that was tabled by Conservative lawmaker Anna Soubry and calls for Britain to stay in a customs union, it stands a chance of passing.
That would leave May stuck between the arithmetic of parliament and the roughly 60 lawmakers in her Tory party who want a clean break from the EU. Corbyn himself went some way to spelling out his path to power.
"If the government has been fundamentally defeated then it has two choices," Corbyn told ITV News after his speech in Coventry, England. "One is to go back and negotiate something different or the other one is to resign. In which case we'd have a general election."
May's End?
According to Eurasia's Mujtaba Rahman, "May could link passage of critical bills to a vote of confidence to discipline her MPs but how many will be willing to go the full distance given that politicians are tribal creatures."
In his view, "remainers are in a weaker position that the hardliners because essentially theirs is only a nuclear option: to team up with the opposition. The hardliners have more leverage because if they don't like what May is doing they can get rid of her without triggering an election."
May has already survived one Brexit defeat at the hands of a pro-European Tory and Labour alliance, when they teamed in December to defeat her in Parliament, ensuring lawmakers will have a meaningful vote on the final deal she strikes with the EU.
This time the issue is harder to brush off as it goes to the heart of her Brexit policy.
The prime minister has ruled out any form of customs union with the EU after Brexit, saying that would curtail Britain's ability to broker new trade deals. If she abandons that stance, she risks alienating another faction within her party: the hardcore Brexiters led by Jacob Rees-Mogg, the bookmakers' favorite to succeed her. Some key Cabinet colleagues are also determined to leave the customs union as staying in would thwart their plans for Brexit.
Read more: How a 'Customs Union' Helps Businesses With Brexit
Corbyn argued that customs union membership would solve the question of how to avoid a hard border in Northern Ireland. The Irish government's view is that it would help avoid a policed frontier, but doesn't solve all the problems as the customs union doesn't guarantee rules and standards, according to a person familiar with the situation.
As well as creating trouble for May, Corbyn has put Labour in a position where he has the support of most of his lawmakers, while accepting that EU freedom of movement rules, which anger many Labour voters, will end. 
"The speech was actually quite clever," said Sam Lowe of the Center for European Reform. "He has made demands that are potentially resolvable within the existing EU single market framework, and de-prioritized freedom of movement, giving himself a lot of wiggle room. It's in the EU's interest to let this hang in the air for a while, whether they agree with all he said or not."
Read more: EU Might Look Kindly on Labour's Customs Union Brexit Plan
May's need to placate those in her party and Cabinet who want a clear departure from the EU has created a political space for Corbyn to call for a softer Brexit.
Those unique circumstances have resulted in Labour's most socialist leader in decades being praised by the world of business that so often is the target of his attacks.
Before it's here, it's on the Bloomberg Terminal.
LEARN MORE